Marjorie Taylor Greene Accuses Biden Official of Leaking SCOTUS Murder Plot
Representative Marjorie Taylor Greene suggested Wednesday that news organizations were able to obtain a new Department of Homeland Security (DHS) report on potential threats to Supreme Court Justices following the leak of a draft opinion on abortion because White House Press Secretary Karine Jean-Pierre is "sleeping" with a CNN correspondent.
"HOW does the press know about this terrorist plot to burn down the Supreme Court and murder Justices? And Members of Congress do not know. Is it because Biden's new @PressSec is sleeping with a CNN National Corespondent?" the Republican Georgia lawmaker tweeted Wednesday.
The DHS memo, which was dated May 13 and first reported by Axios on Wednesday, has gained traction among major news sites such as CNN. The department warned that because of the national abortion debate, both the public and SCOTUS members could see a boost in threats, such as burning down the Supreme Court and murdering the justices.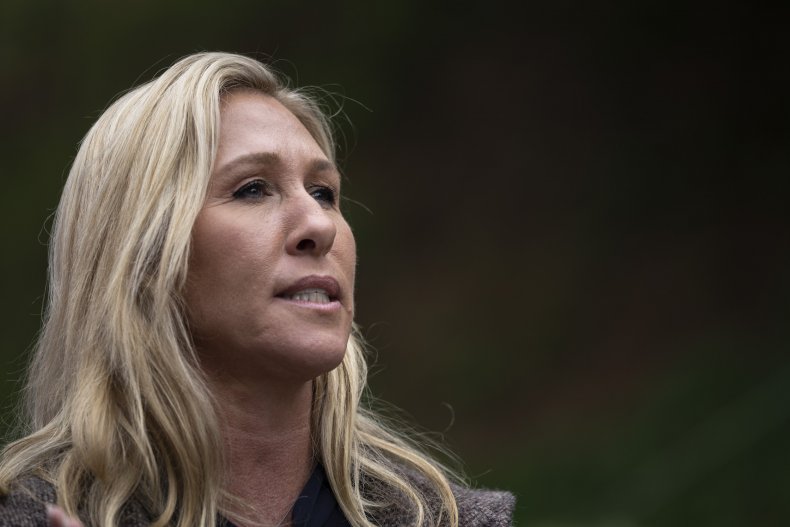 "We assess that the broader ideological spectrum of potential DVEs (domestic violent extremists) linked to recent abortion-related threats likely seek to target a range of individuals and entities," the bulletin read. "Historically, violent acts related to this issue were primarily committed by abortion-related violent extremists that opposed abortion rights. Going forward, grievances related to restricting abortion access could fuel violence by pro-choice abortion-related violent extremists and other DVEs."
Jean-Pierre officially assumed the role of White House press secretary following Jen Psaki's exit from the role last week. Prior to stepping into the position, she previously served as the principal deputy press secretary and deputy assistant to the president.
The leaked SCOTUS draft opinion indicated that the high court is poised to strike down Roe v. Wade, a prospect that has sparked outcry and protests among abortion-rights advocates. Some protesters have flocked to the homes of Supreme Court justices to demonstrate against the potential rollback of abortion rights, but the DHS memo indicated that responses from some could potentially be much more severe.
The report said that Supreme Court police noticed a major increase in threats of violence, including some that were directed at SCOTUS justices and the court's building in Washington D.C., according to CNN. Some of those threats are already being investigated.
It added that "domestic violence extremists and criminal actors have adopted narratives surrounding abortion rights to encourage violence, likely increasing the threat to government, religious, and reproductive healthcare personnel and facilities and ideological opponents."
Greene is one of several Republican lawmakers who have decried the protests at the homes of SCOTUS justices.
"Has the FBI used geo fencing to target protestors at Supreme Court Justice's homes over the weekend?" she tweeted last week. "Will the DOJ be issuing arrest warrants for abortion protesters trying to intimidate Justices to change their minds on overturning Roe? Do laws matter anymore or just politics?"
Newsweek reached out to Greene and the White House for comment.