Marjorie Taylor Greene Accuses Biden of Rushing Pfizer Vaccine Approval for His Advantage
Marjorie Taylor Greene baselessly claimed that President Joe Biden influenced the Food and Drug Administration's approval of a COVID-19 vaccine to help his presidency.
The Georgia Republican, who has been a leading critic of the COVID-19 vaccine, initially took issue with the vaccine being administered under an Emergency Use Authorization. With FDA approval looming, Greene publicly advocated against the FDA issuing the approval and on Monday, criticized the fact that it came before Labor Day.
"It was supposed to be approved after Labor Day but magically it's been approved today because President Joe Biden said to speed it up," Greene told Steve Bannon on his War Room podcast.
Bannon interrupted Greene to clarify that she was "actually accusing the president of the United States" of influencing the approval process because the "bottom's falling out of his administration," likely a reference to the criticism he's received about the withdraw of troops in Afghanistan. Greene didn't deny that's what she was doing, telling Bannon, "I'm not the only one saying it."
Greene offered no evidence for why she believed Biden influenced the process and the FDA denied it cut any corners in approving the vaccine. On Monday, Peter Marks, Director of the FDA's Center for Biologics Evaluation And Research, acknowledged the vaccine was "expeditiously" approved, but said it only received the approval in line with "our existing high standards for vaccines in the U.S."
Marks added that experts conducted an "incredibly thorough and thoughtful evaluation of the vaccine" that required them to pour over hundreds of thousands of pages of information. Part of that review included information about how vaccine recipients were faring six months after being inoculated.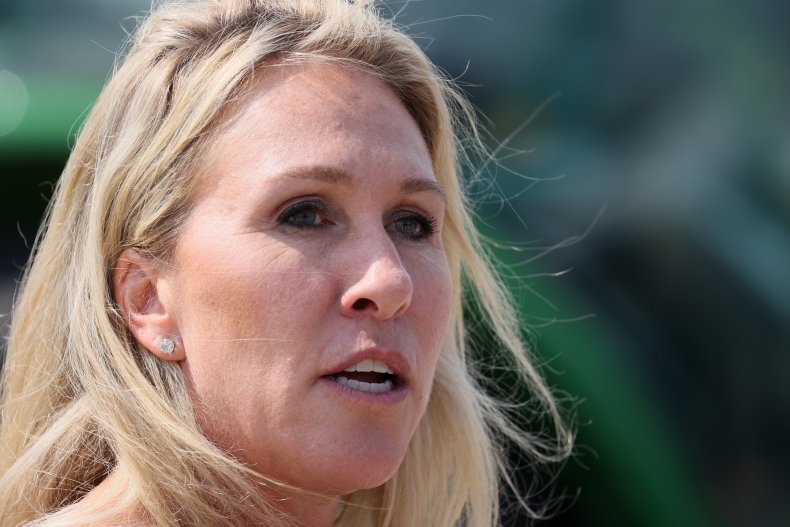 Pfizer's vaccine received an Emergency Use Authorization in December, which allowed it to be administered during the public health crisis. That authorization was based on ongoing clinical trials and the FDA's approval on Monday means the company can market the vaccine in the United States.
The approval is also expected to increase the vaccine mandates that are put in place, as it may give companies confidence that they can legally require employees to be vaccinated to engage in in-person work.
Greene vehemently pushed back on vaccine requirements to maintain employment or engage in certain aspects of life, such as attending school, going to concerts and dining indoors. She introduced a bill called the "We Will Not Comply Act" in April that would bar the mandates from being put in place, but it failed to gain any traction in Congress.
When asked about the basis of Greene's belief that Biden influenced the approval of Pfizer's vaccine, Nick Dyer, a spokesperson for Greene, directed attention to the "We Will Not Comply Act." He said "no one should be forced to take a vaccine to keep their job or go about their daily life in America" and that Greene believes in "health freedom."
"That's why she supports anyone who chooses to take vaccine, but doesn't believe it should be mandated by the government and is opposed to Americans being discriminated against if they choose not to take the vaccine," Dyer said.
Greene also took issue with the fact that the COVID-19 vaccine doesn't fully eliminate a person's chance at contracting COVID-19. She has shared numerous stories on Twitter about people who contracted COVID-19 after being vaccinated, claiming that it signaled the vaccines were "failing."
Her claims about the COVID-19 vaccine got her kicked off Twitter for a week and the Centers for Disease Control denied breakthrough cases were evidence the vaccines didn't work. Since no vaccine is 100 percent effective, the CDC always expected some people who are vaccinated to contract COVID-19. But, a person's chances of becoming seriously ill or dying of COVID-19 are reduced if they're vaccinated and unvaccinated people account for the majority of hospitalizations in the United States.