Marjorie Taylor Greene Advocates for Protecting Crypto Owners' 'Rights'
After the Canadian government threatened to seize cryptocurrency used to fund trucker protests at the U.S. border, Representative Marjorie Taylor Greene called for added protections for cryptocurrency owners.
The Georgia Republican took to Twitter days after Canadian Prime Minister Justin Trudeau announced that his government was invoking emergency powers to end the weekslong protest by truckers against COVID-19 vaccination requirements. Trudeau and other government officials said they would target financial assets used to back the protests, including decentralized cryptocurrencies, such as Bitcoin.
"As Trudeau has gone full dictator in Canada and stealing Canadian's Crypto wallets, Democrats and Big Banks are lining up to take their cut of #Crypto and #blockchain," Greene said in her tweet.
She added, "Joe 'the big guy' Biden always gets his cut. Protect Crypto currency owner's rights."
Newsweek has reached out to Greene's office for comment.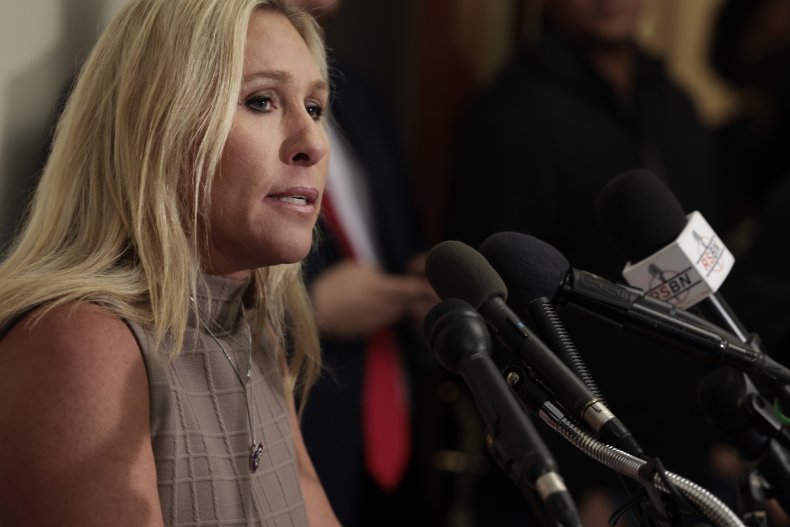 Trudeau, and other Canadian government officials, announced on Monday they were invoking the Emergencies Act for the first time, giving authorities sweeping powers to stop the Freedom Convoy blockade that had occupied the country's capital and important border crossings.
"We are broadening the scope of Canada's anti-money laundering and terrorist-financing rules so that they cover crowdfunding platforms and the payment service providers they use," Deputy Prime Minister and Minister of Finance Chrystia Freeland said on Monday. "These changes cover all forms of transactions, including digital assets such as cryptocurrencies."
Earlier in the protests, truckers had turned to crowdfunding sites, such as GoFundMe, to raise money. After GoFundMe dropped the Freedom Convoy campaign, protesters began turning to cryptocurrencies, raising over $900,000 in Bitcoin donations, according to Markets Insider.
Freedland said on Twitter on Monday that since the government invoked the act, law enforcement agencies have shared information with Canada's financial institutions, which have already begun taking action.
It's not clear what exact concerns Greene has regarding the Biden administration's handling of cryptocurrencies.
Her comments on Twitter coincided with the U.S. Department of Justice announcing a new division head specifically targeting cryptocurrency crimes.
Eun Young Choi will head the National Cryptocurrency Enforcement Team. The unit will analyze blockchain, the technology used for cryptocurrency transactions, and will look into how it's used to facilitate both the legal and illegal transfer of assets. The department created the unit in response to scams that have accompanied the growing popularity of cryptocurrencies.
The $1.2 trillion infrastructure bill signed by President Joe Biden last year included a provision requiring tax reporting for digital assets, including cryptocurrencies and nonfungible tokens, or NFTs, according to CNBC. Specifically, the bill requires businesses to report when they receive more than $10,000 in cryptocurrency.
Newsweek has reached out to the White House for comment.