Kathy Griffin and Others React to Marjorie Taylor Greene's Anti-Mask Tweet: 'I Would Maybe Not Take Her Advice'
Georgia congresswoman-elect Marjorie Taylor Greene received a massive influx of negative responses to a tweet she wrote, claiming that masks were "oppressive," including some backlash from stars like Kathy Griffin and George Takei.
On Friday afternoon, Greene tweeted that she attended a new member orientation, which discussed the COVID pandemic for incoming members of Congress. It appears she had some issue with discussions regarding masks.
"I proudly told my freshman class that masks are oppressive. In GA, we work out, shop, go to restaurants, go to work, and school without masks. My body, my choice," she wrote. According to the Georgia Department of Public Health, there have been over 380,000 confirmed COVID cases, with 8,403 confirmed deaths and 32,497 hospitalizations.
People didn't take kindly to Greene's tweet. Many people called her out for being ignorant and risking other people's health. Star Trek star George Takei warned her that spreading anti-mask ideology and misinformation may lead to "coronakarma," which is presumably getting the virus after refusing to wear a mask. He also warned about "transmission to others around you," before telling her to wear a mask.
Comedian Kathy Griffin was less gentle on the congresswoman-elect, citing her previous statements about the oft-debunked QAnon conspiracy theory, which says that a President Donald Trump is working to stop a secret ring of Democratic satanic pedophiles who drink adrenochrome.
"This qanon crazy b***h thinks I dismember babies and drink their blood in a Satan worshipper's basement with Hillary Clinton and Tom Hanks. I would maybe not take her advice," she wrote.
Other comedians weighed in with criticisms of Greene. The Daily Show producer Matt Negrin said that people like Greene should be labeled "pro-covid" rather than anti-mask. Comedian Christopher Titus commented on her misuse of the phrase "My body, my choice," which is a slogan used by people to promote women's rights and pro-choice policies. Titus sarcastically wrote that she must be planning on funding Planned Parenthood. In a later tweet, he called her "the disease that will kill America" and a "conspiracy nut job."
Even former White House communications director Anthony Scaramucci called out Greene, including an attack on House Minority Leader Kevin McCarthy, who defended Greene. According to The Washington Post, McCarthy said that Greene (and Lauren Boebert) had denounced QAnon, although she has not. "So the only thing I would ask for you in the press—these are new members. Give them an opportunity before you claim what you believe they have done and what they will do," he said according to The Post.
Scaramucci called out defenses of Greene. "Amid the worst wave of the worst pandemic we've seen in 100 years, at a time when hospitals around the country are overflowing, she is focused on the tyranny of being asked to wear a mask. This is the modern @GOP," he tweeted.
Despite Greene's statements that "masks are oppressive," Cristina Marcos, a reporter for The Hill, shared a photo of Greene wearing an American Flag mask on her way to the the orientation meeting, which seems hypocritical.
In a statement received by Newsweek, Greene defended that people should have freedom to decide whether they should wear a mask or not. Her statement is below:
People should have the freedom to choose to wear a mask or not.

We need to protect those in the risk group, but not punish the healthy working population of adults and children.

Covering your face has always been oppressive. Ask any woman in Iran.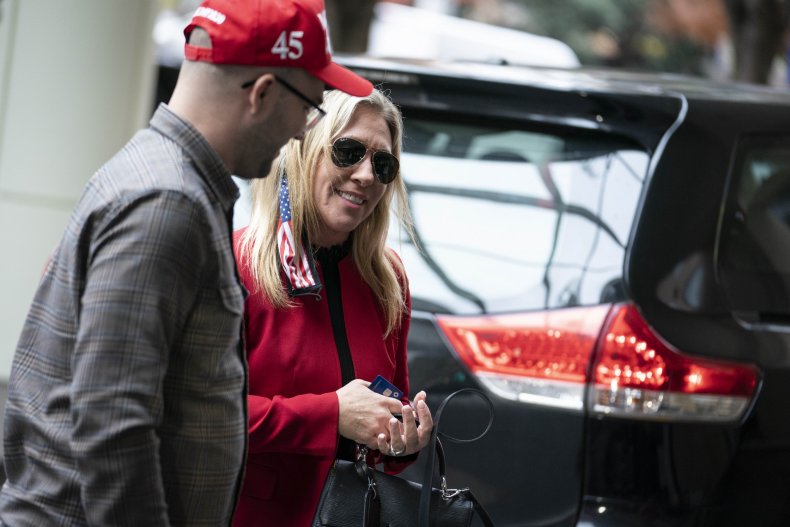 Update 11/13/20 4:40 p.m. ET: This story has been updated to include comment from Greene.