Marjorie Taylor Greene Asks Kamala Harris if White Husband Is 'Worth Less'
Representative Marjorie Taylor Greene, a Georgia Republican, asked Vice President Kamala Harris on Monday if her white husband is "worth less" as she faces criticism for saying "equity" should be taken into account while dispersing Hurricane Ian relief.
Harris, while speaking at the Democratic National Committee's Women's Leadership Forum last Friday, said equity should be considered in shaping policies surrounding climate change resiliency during a discussion about federal aid supporting communities devastated by Hurricane Ian. The storm slammed into southwest Florida last week, leaving a path of destruction and killing at least 76 people so far.
"It is our lowest-income communities and our communities of color that are most impacted by these extreme conditions and impacted by issues that are not of their own making. We have to address this in a way that is about giving resources based on equity, understanding that we fight for equality, but we also need to fight for equity," the vice president said.
Her remarks drew criticism from Republicans, who said equity should not be considered amid relief efforts. Greene, a controversial first-time congresswoman, was among Harris' critics on Twitter, where she questioned if Harris believes her husband, Doug Emhoff, who is white, is "worth less."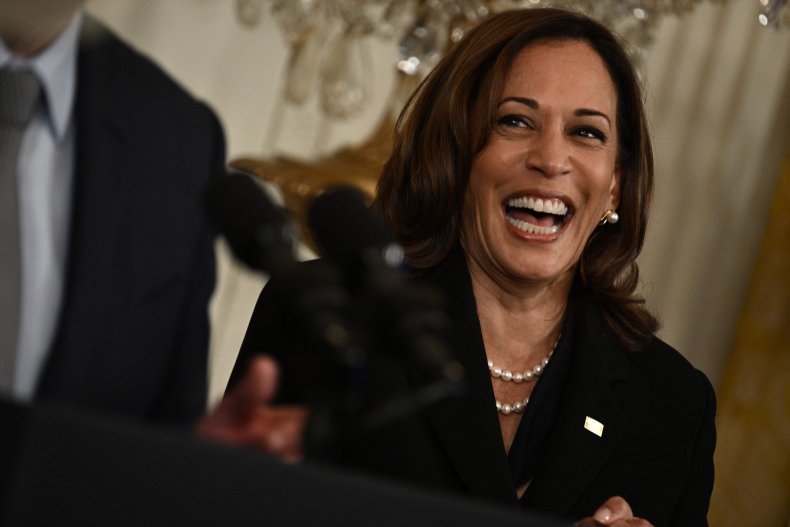 "@KamalaHarris hurricanes do not target people based on the color of their skin. Hurricanes do not discriminate. And neither should the federal government giving aid to people suffering from the devastation of Hurricane Ian. Is your husband's life worth less bc he's white?" she asked in a tweet.
A White House spokesperson told Newsweek on Monday that Greene's claims are "inaccurate," adding that Harris' remarks were addressing long-term climate resilience policies—not immediate aid to hurricane victims.
"Vice President Harris had already answered the interviewer's first question, about the FEMA response to Hurricane Ian specifically, by emphasizing that we are urgently responding to all Americans hurt by the storm. She had explicitly moved on to answering the second question—on 'long term goals' for how to "address the climate crisis in the states"—by mentioning the long term investments that Congress, with Republican support, specifically set aside for communities that are vulnerable because of a lack of infrastructure resources," the spokesperson said in a statement.
FEMA Head Breaks From Harris
FEMA administrator Deanne Criswell also clarified Harris' comments during an appearance on CBS News' Face the Nation on Sunday. She said she has been working to eliminate "barriers" that make it difficult for some people to access the agency's relief. She also said all Floridians will have access to aid to help rebuild their communities.
"One of the things that I have known and I have experienced responding to other disasters is that there are people that often have a hard time accessing our programs. There's barriers to our program, and one of our focus areas since I've been in office is to make sure that we are removing those barriers so these people that need our help the most are going to be able to access the help that we offer," she said.
She added that she committed to Florida Governor Ron DeSantis that "we are going to provide assistance to all Floridians, because we know that there are people who are just completely devastated from the storm."
Relief Efforts Underway After Hurricane Ian
Relief efforts are underway in Florida to rebuild communities razed by Hurricane Ian last week. President Joe Biden has authorized FEMA aid and is set to visit Florida on Wednesday to assess the extent of the damage. Meanwhile, Florida Senators Marco Rubio and Rick Scott are urging Senate leaders to allocate more funds to rebuild cities like Fort Myers, where the hurricane made landfall.
Five days after Hurricane Ian struck Florida, nearly 600,000 Florida residents are still without power. Meanwhile, nearly 140,000 Puerto Ricans still don't have power after Hurricane Fiona hit the island last month.
Newsweek reached out to Greene's office for comment.