Marjorie Taylor Greene Asks Supporters for $50K to 'Send a Message' Amid Expulsion Threat
Amid calls for her expulsion from Congress and removal from House committee posts, Representative Marjorie Taylor Greene is asking her supporters for money.
In a Twitter post Tuesday, the Georgia Republican posted a photo with a caption saying: "Democrats are trying to expel me from Congress. Help me raise $50,000 today and send a message."
The fundraising appeal comes as House Democrats weigh several options to punish the freshman congresswoman for a laundry list of incendiary remarks—which range from spreading conspiracies that school shootings were staged events to allegedly indicating support for executing prominent Democratic politicians.
Despite her past rhetoric, Greene was chosen by the Republican leadership to serve on the House Education and Labor Committee as well as the House Budget Committee. House Speaker Nancy Pelosi called the move "appalling" given Greene's controversial statements on the shootings at Sandy Hook Elementary School and Marjory Stoneman Douglas High School.
On January 27, Representative Jimmy Gomez (D-Calif.) introduced a resolution to expel Greene from Congress. In a statement, Gomez argued that Greene's "advocacy for extremism and sedition not only demands her immediate expulsion from Congress, but it also merits strong and clear condemnation from all of her Republican colleagues."
As of Monday, at least 60 House lawmakers have signed Gomez's resolution to expel Greene from Congress.
Then on Monday, Representative Debbie Wasserman Schultz (D-Fla.) said she had a resolution to strop Greene of her committee assignments if Republicans don't take the action themselves.
Politico reported that House Majority Leader Steny Hoyer (D-Md.) delivered an ultimatum to GOP leader Kevin McCarthy (R-Calif.) to strip Greene of her committee posts within three days or Democrats will bring the motion to the floor themselves
Greene responded to threats to remove her from committee posts in a tweet. "If Democrats remove me from my committees, I can assure them that the precedent they are setting will be used extensively against members on their side once we regain the majority after the 2022 elections. And we will regain the majority, make no mistake about that," she wrote.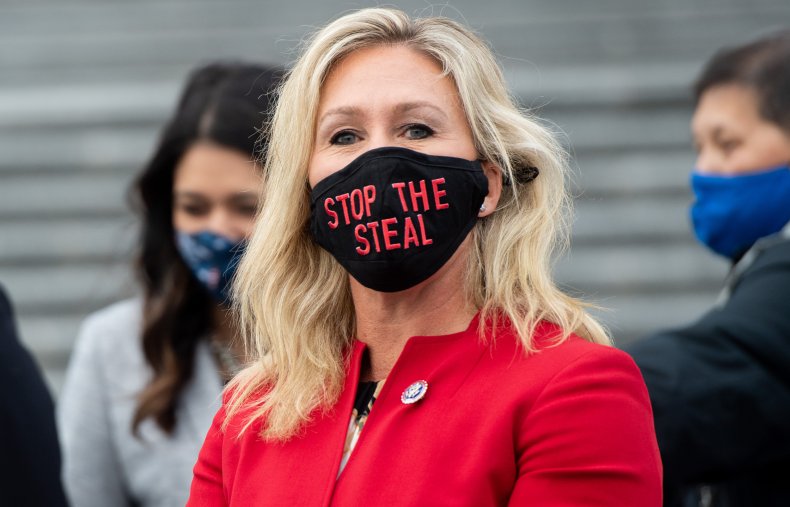 McCarthy has remained relatively silent on Greene's controversies, to the fury of congressional Democrats. His office has said that the two will meet later this week.
But on Monday, Senate Minority Leader Mitch McConnell waded into the situation and issued a rebuke of Greene's behavior, though he didn't explicitly mention the congresswoman by name.
"Loony lies and conspiracy theories are cancer for the Republican Party and our country," McConnell said in a statement. "Somebody who's suggested that perhaps no airplane hit the Pentagon on 9/11, that horrifying school shootings were pre-staged, and that the Clintons crashed JFK Jr.'s airplane is not living in reality. This has nothing to do with the challenges facing American families or the robust debates on substance that can strengthen our party."
Newsweek reached out to Greene's campaign for comment on the fundraising effort but did not receive a response before publication.