Representative Marjorie Taylor Greene has tweeted a poll asking if the U.S. should be split among red and blue states, sparking criticism among social media users.
The Georgia lawmaker asked her followers "should America have a national divorce?" Users are given the option to either vote yes or no, for a split into Republican and Democratic states.
As of Tuesday morning, with a further two days remaining in the unscientific survey, more than 21,000 people had voted. The majority (50.9 percent) backed the idea while 38 percent opposed it. Some 10.4 percent were undecided.
Greene, who is a loyalist of former President Donald Trump has faced condemnation for pushing conspiracy theories on Twitter, which has temporarily banned her from the platform for breaching its rules, such as pushing COVID misinformation.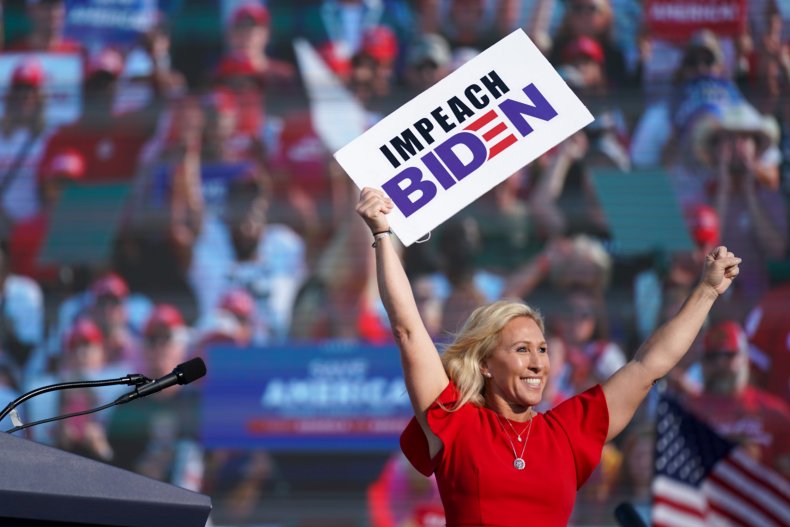 In July, she apologized after she was condemned for comparing mask mandates in the U.S. Capitol to measures enacted in Nazi Germany.
Her poll sparked a thread in which a number of users questioned the appropriateness of a lawmaker suggesting the country be split along party political lines.
Congressional candidate in California Eric Garcia tweeted: "There are no red or blue states just United States. And it seems like you are suggesting states should secede from the Union. What is your problem?"
Ewan Barker Plummer tweeted: "Did you really just tweet this? As a US Representative?"
An account belonging to Arizona Patriots Resist MAGA (Make America Great Again) tweeted: "@TwitterSupport this amount of division from a member of Congress can't be tolerated."
Another user wrote that the "14th Amendment, Section 3 is now something that urgently needs to be applied to MTG [Marjorie Taylor Greene]." The user shared an excerpt from the Constitution which described how Congress could remove an elected lawmaker who engaged in "insurrection or rebellion." Another person wrote: "Are you suggesting civil war for real?"
A spokesperson for Twitter told Newsweek: "We can't comment on the tweet, but, as is standard, we have open lines of communication with her office and have worked with them to ensure the account is secure."
"At this time, we've identified no signs of account compromise," the statement added.
In a statement to Newsweek, a spokesperson for Greene said she "is fully opposed to political violence, especially the kind used by ANTIFA and Black Lives Matter domestic terrorists to rip our country apart."
Greene has also previously accused tech companies like Twitter, where she has nearly half a million followers, of curbing her freedom of speech because of her political views.
Meanwhile, Greene's poll does tap into sentiment felt among a number of people, not all of whom support Trump.
Earlier in October, a survey by the University of Virginia's (UVA) nonpartisan Center for Politics pointed to a desire among some for the country to be split into red and blue halves.
A majority of respondents (52 percent) who supported Trump either "somewhat" or "strongly" agree that it was time to split the country along party political lines. In comparison, 41 percent of people who voted for President Joe Biden agreed with the idea.
UPDATE 10/13/21 4:55 a.m. ET: This article was updated to include a statement from Twitter.