Representative Marjorie Taylor Greene has voiced support for a Capitol riot suspect who claims to be "nonviolent" despite footage appearing to show him attacking police.
Greene, a Republican representing Georgia's 14th District, shared a letter from the jailed suspect, Nathan DeGrave, via Twitter on Saturday.
"I never thought I'd write a letter like this, but we're living in very different times. This is my cry for help. My name is Nathan DeGrave, and as a non violent participant at the Jan 6th rally, I've spent the last 9 months detained..." the letter began.
In addition to the claim about nonviolence, DeGrave alleged that the military gear he wore on January 6 was a "costume" for a documentary he was filming and compared the "inhumane" conditions he is experiencing in jail to Guantanamo Bay.
"Class action LAWSUITS are being filed against this prison; and even the ACLU has gotten involved. Senators Matt Gaetz and Marjorie Taylor Greene have since attempted to gain access to this facility and inspect the conditions of the jail, only to be denied," the letter continued.
Greene wrote in her tweet while sharing the letter: "There are no words. I'll be back at that jail this week."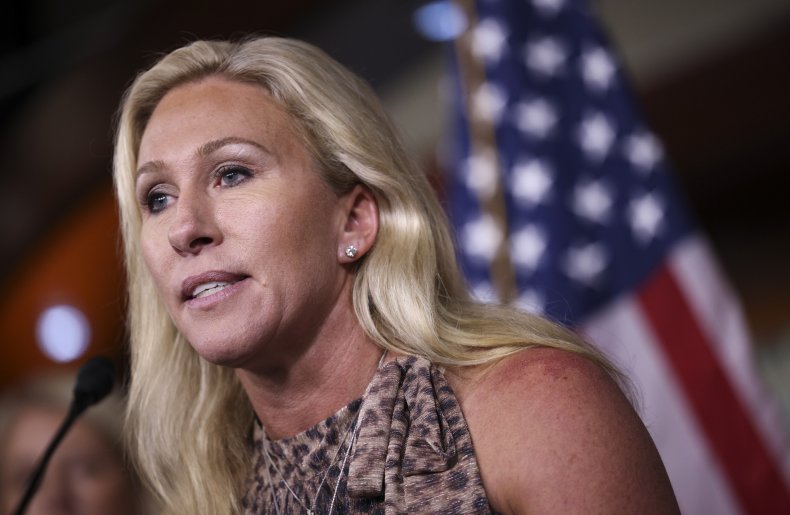 Greene has previously suggested that January 6 rioters were not actual supporters of former President Donald Trump. She also claimed that "the attack RUINED our objection [to the 2020 election results] that we spent weeks preparing for, which devastated our efforts on behalf of Trump and his voters."
Ryan J. Reilly, a Huffington Post reporter who has followed the fallout of the January 6 riot and the prosecution of its participants, responded to Greene's circulation of the letter with a quote from a federal judge describing DeGrave's actions.
"Mr. DeGrave entered the Capitol building and engaged in violence directed at Capitol Police officers as they tried to secure the building," the judge wrote.
Reilly then shared a video appearing to show DeGrave during the riot acting "so aggressive" in pursuing an officer, "that other members of the mob held him back."
"In summary, you might say he's a bit of an unreliable narrator," Reilly wrote in a tweet before sharing more videos of DeGrave reportedly at the Capitol.
"I punched this guy like five times in the fu--in' head," DeGrave can be heard allegedly saying in one of the videos he shared. "He didn't see my face, though."
As 8 News Now reported, DeGrave was arrested in late January at his Las Vegas apartment. In March, he appeared before a judge in Washington, D.C., and pled not guilty to charges filed against him. His lawyer, Joanne Slaight, also discussed how apologetic his client was for his alleged role in the Capitol insurrection and said that he is not likely to be a repeat offender.
"With a lack of prior convictions, I would say that he is not a danger to the community," Slaight told the judge in March. "He's certainly apologetic and profusely apologetic about what happened, and this is totally out of character from everything about his background in his 31 years and I would ask that he be released in the case as soon as possible."
Digging into his social media accounts, investigators found a comment DeGrave allegedly made on a Facebook post by Ronnie Sandlin, who was also charged for his involvement in the Capitol riot.
"It's time the American people rise and stand up for this country," DeGrave reportedly wrote. "We're tired of the corruption."