Representative Marjorie Taylor Greene has purchased a stake in Digital World Acquisition Corp. (DWAC), the special purpose acquisition company (SPAC) responsible for taking former President Donald Trump's social media venture public.
This information regarding the purchase was made public through a periodic transaction report posted by the House Clerk, which said the Georgia Republican purchased the stake, which was valued on the report as being worth between $15,000 and $50,000, on October 22.
Trump's new social media outlet will operate under the name of Trump Media & Technology Group and is headquartered in Palm Beach, Florida. The company said it aimed to provide a space for people with views that do not "align with (Big Tech's) woke ideology."
The Trump Media & Technology Group plans to launch its social media outlet Truth Social as well as an on-demand programming service called TMTG+. It will also feature a news arm known as TMTG News.
In response to a CNBC question about the DWAC purchase, Greene's office said, "This transaction was reported in compliance with House rules and provides all required details about the transaction."
When the deal with Trump Media and Technology Group was announced on October 22, DWAC stock shot up. According to CNBC, at one point that day, it was up 284 percent before eventually closing at $94.2 a share, a gain of 107 percent.
In regards to social media, Greene has been suspended from Twitter on multiple occasions for making claims with false information about the COVID-19 vaccine as well as for sharing election conspiracy theory content. Following his alleged incitement of the January 6 Capitol insurrection, Trump's accounts were suspended from major social media platforms.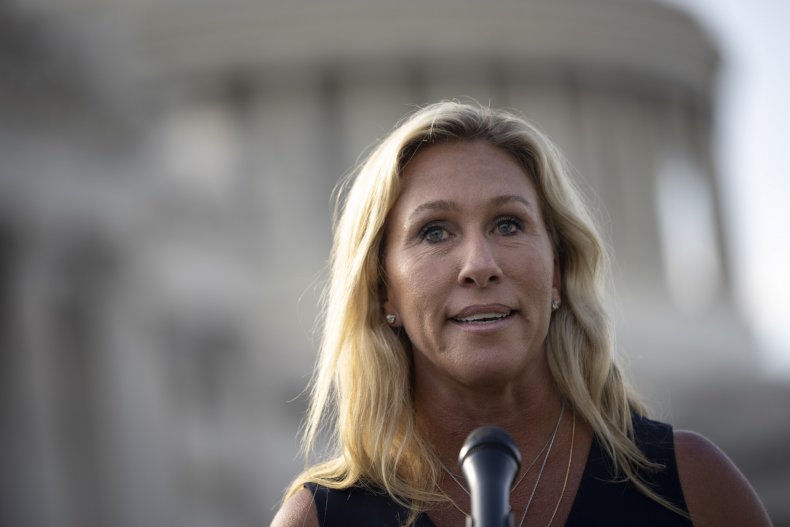 Greene's purchase came at the peak of the stock's surge. Since Greene's Friday purchase, the stock has dropped to just under $66, as of its opening price on Wednesday.
While Greene decided to invest in DWAC, two hedge funds have decided to pull out. CNBC reported that Lighthouse Investment Partners and Saba Capital Management respectively dumped their 11.2 percent and 9.3 percent stakes in the company upon learning of its ties with Trump's new platform.
Anthony Scaramucci, the hedge fund founder who briefly served as Trump's communication director in the White House but later turned against the former president, said he hopes the price continues to rise, believing that it may sway Trump's decision to run in 2024.
"The more it goes up, the less likelihood Donald Trump is running for president in 2024," he told CNBC. "I personally think he's a domestic terrorist. I want the guy out, as far away from politics as possible."