Marjorie Taylor Greene: Biden Stealing Credit on GOP Declaring COVID 'Over'
GOP Representative Marjorie Taylor Greene has accused President Joe Biden of attempting to "take credit" for Republican plans to declare the COVID-19 pandemic "over."
A statement from the White House Office of Management and Budget Communications on Monday said that the administration was opposing two new Republican bills to immediately terminate the COVID-19 national and public health emergencies, which were first declared by former President Donald Trump in 2020.
"At present, the Administration's plan is to extend the emergency declarations to May 11, and then end both emergencies on that date," the statement says. "This wind-down would align with the Administration's previous commitments to give at least 60 days' notice prior to termination of the [public health emergencies]."
Just before the administration officially announced plans to end the emergencies, Greene accused Biden of stealing GOP ideas while reacting on Twitter to a report on the impending decision from Punchbowl News founder Jake Sherman.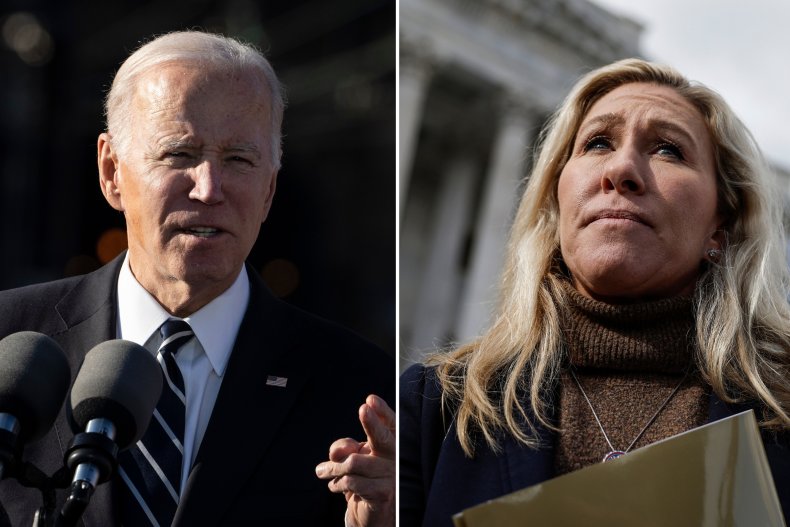 "Too late!" Greene tweeted. "Republicans already announced we're declaring COVID IS OVER and passing it through the House this week. The GOP is leading on this issue and Biden is trying to take credit."
Hours earlier, Greene had tweeted that the Republican-led House was set for a "BIG week" that would include "eliminating authoritarian Democrat policies and officially declaring COVID IS OVER."
The Biden administration's announcement stressed that winding down the emergencies would "not impose any restriction at all on individual conduct with regard to COVID-19," while warning that a sudden end to the emergencies would have "highly significant impacts on our nation's health system and government operations."
The administration said that "an abrupt end to the emergency declarations would create wide-ranging chaos and uncertainty throughout the health care system," as well as abruptly ending the Trump-era Title 42 border policy, which Republicans have argued should be extended.
Regardless of the declarations or policy decisions of U.S. politicians, the COVID-19 pandemic is not over, either officially or in terms of the amount of disease that continues to spread throughout the world.
Tedros Ghebreyesus, director-general of the World Health Organization (WHO), which declared the beginning of the pandemic on March 11, 2020, said in a statement earlier on Monday that the virus remains a global "public health emergency" despite the pandemic having likely reached a "transition point."
A recent WHO panel on the virus lamented that "pandemic fatigue and reduced public perception of risk," alongside vaccine hesitancy and the spread of misinformation, were "drastically" reducing adoption of public health measures that could counter the continued spread of infection.
"There is little doubt that this virus will remain a permanently established pathogen in humans and animals for the foreseeable future," the WHO committee concluded, according to the statement. "As such, long-term public health action is critically needed."
More than 753 million cases of COVID-19 have been confirmed around the world since the pandemic began, causing over 6.8 million deaths, according to WHO. In the U.S., Centers for Disease Control and Prevention (CDC) statistics report over 295,000 new cases of the virus and 3,756 related deaths in the past week alone.
When contacted by Newsweek and asked for additional comment on why Greene believes that the virus is "over" while CDC statistics say thousands are dying every week, Nick Dyer, the congresswoman's communications director, suggested that the statistics were incorrect.
"Are hospitals still getting paid for COVID deaths?" Dyer said. "It's probably something you should check out. This is why the COVID Select committee will be so important."
Although claims that hospitals get paid to falsely report COVID-19 deaths appear to run rampant in pandemic-related conspiracy theories, there is no evidence that U.S. hospitals have ever been paid to report deaths caused by the virus.
Hospitals do get a payment bump when Medicare patients only receive a COVID-19 diagnosis. While the national emergencies remain in effect, the family members of those who have died from the virus also get reimbursed for funeral expenses, with none of the money going to hospitals.
An update to the CDC website last week sought to clarify "misunderstandings about COVID-19 death data [that] have led to claims that COVID-19 deaths in the United States are being overcounted," stressing that the agency's figures include "only the deaths in which COVID-19 played a meaningful role."
"People who happen to have COVID-19 at the time of their death but it is unrelated to their death—for example, someone who dies in a car accident—should not have COVID-19 listed on their death certificates," the site states.
"Over 1 million deaths in the United States due to COVID-19 have been reported since the start of the pandemic, and these deaths should not be downplayed," it continues. "Each death is a tragic loss that should be remembered as a person rather than a statistic."
Newsweek has reached out to the White House for comment.