Marjorie Taylor Greene Calls Congress 'Utter Failure' Ahead of Steve Bannon Contempt Vote
Rep. Marjorie Taylor Greene (R-Ga.) deemed Congress "an utter failure" just before the House voted to hold former President Donald Trump's ex-adviser Steve Bannon in contempt.
The House held Bannon in criminal contempt of Congress for refusing to comply with a subpoena from the committee investigating the January 6 attack on the Capitol by a vote of 229 to 202 on Thursday afternoon. Nine Republicans joined with Democrats in favor of the contempt charge, while Rep. Greg Pence (R-Ind.), former Vice President Mike Pence's brother, abstained from voting. Shortly before the vote was held, Greene lashed out at Congress on Twitter.
"Congress is an utter failure," tweeted Greene, a staunch ally of Trump who has made multiple recent appearances on Bannon's War Room: Pandemic podcast. "Total. Complete. Failure. They don't care about you. Your family. Your job. Your security. Or your freedoms. They only care about themselves. They make me sick."
In a statement to Newsweek, Greene made it clear that her tweet was pointed at the January 6 committee and the decision to hold Bannon in contempt.
"Democrat Liz Cheney, pencil-neck Russia hoaxer Adam Schiff, and disheveled Jamie Raskin were giggling together and patting each other on the back in the well of the House," said Greene. "I had to let them know that their J6 witch hunt committee is an absolute joke. It's an unconstitutional sham using tyrannical methods to target private citizens and destroy their lives."
"Congress only cares about Congress," she added. "Not a damn thing has been done about a year of BLM / ANTIFA domestic terrorists burning down our cities, looting our businesses and murdering our citizens. Instead, they are weaponizing Congress to punish their political enemies: the American People."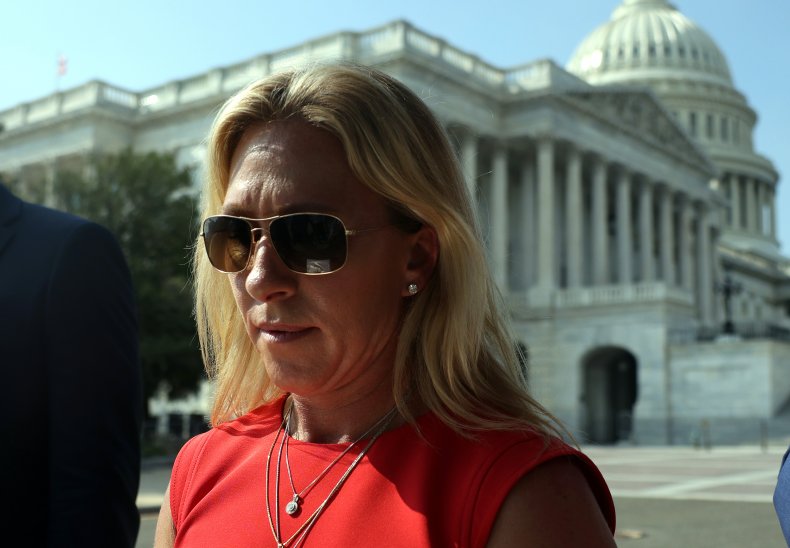 The contempt charge will be referred to the Department of Justice (DOJ) for potential criminal prosecution. Bannon, Trump's former White House chief strategist, insisted that he would not comply with the subpoena on the advice of the former president. The subpoena asked Bannon to provide the committee with documents and in-person testimony related to the days leading up to the Capitol attack.
In a statement shortly before the vote on Thursday, Trump referred to his repeated false claims that the 2020 election—which he lost to President Joe Biden by 74 Electoral College votes and over 7 million popular votes—was "stolen" from him due to massive, unsubstantiated voter fraud. The former president claimed that the "insurrection took place on November 3, Election Day" and argued that the January 6 insurrection was only "the Protest."
Trump has attempted to block the committee by claiming executive privilege, a claim that Biden dismissed. In addition to Bannon, other former Trump administration officials who have received subpoenas from the committee have also been urged not to comply by the former president's attorney. The decision on whether to prosecute Bannon ultimately falls on the DOJ. If prosecution moves forward, it will likely be met with legal challenges.
"If the House of Representatives votes for a referral of a contempt charge, the Department of Justice will do what it always does in such circumstances, we'll apply the facts and the law and make a decision, consistent with the principles of prosecution," Attorney General Merrick Garland said in testimony to the House Judiciary Committee ahead of the vote.
Biden has indicated that he is in favor of prosecuting those who defy the committee subpoenas, telling reporters gathered outside the White House last week that he hopes "the committee goes after them and holds them accountable criminally."