Marjorie Taylor Greene Calls Kwanzaa 'Fake Religion Created by a Psychopath'
Republican Congresswoman Marjorie Taylor Greene referred to Kwanzaa as a "fake religion" on Twitter Sunday. The message came on the first day of the weeklong holiday celebrated by millions of Black people.
Kwanzaa is not a religion but rather a holiday festival created in 1966 as a celebration of African roots for Black people around the world.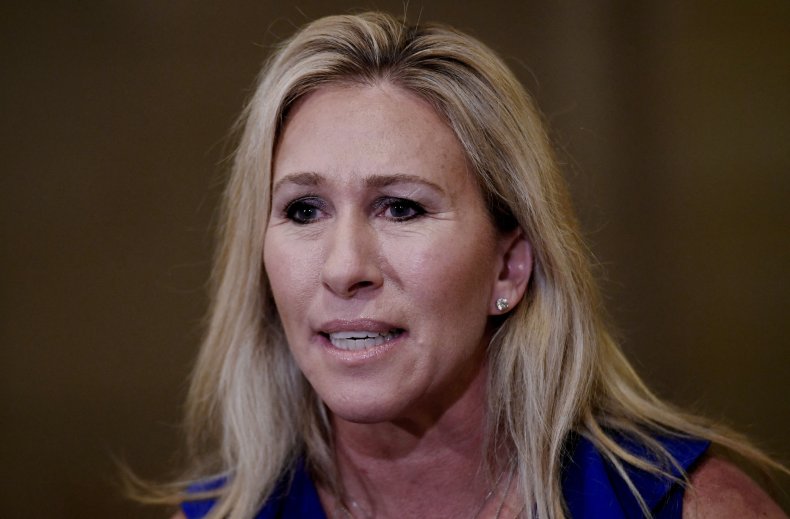 Greene, a Georgia Representative, made the remark in response to a Twitter post by the College Republican National Committee (CRNC), a group of conservative college students.
"Wishing you a happy and prosperous Kwanza!" the CRNC wrote on Sunday, misspelling Kwanzaa.
"Stop. It's a fake religion created by a psychopath," Greene tweeted back to the group's message. "You aren't bringing in new voters, you are turning them away. People are tired of pandering and BS."
Greene's reference to a "psychopath" is seemingly about Kwanzaa's creator, the activist Maulana Karenga. In 1971, Karenga—who currently chairs the Africana Studies Department at California State University, Long Beach—was convicted of felonious assault and false imprisonment. However, he has long claimed he was the victim of a politically motivated prosecution due to his work in Black nationalist politics.
Kwanzaa celebrates the Nguzo Saba, which are seven Swahili values. Those values emphasize the importance of unity and community. A candle is lit each day on a candleholder called a Kinara to celebrate one of the seven principles, and one of the high points for the festival is a feast on the sixth day called Karamu.
When reached for comment, a spokesperson for Greene told Newsweek her tweet was "pretty self-explanatory."
While Greene opted to denounce Republicans for sending out positive messages about Kwanzaa, not all members of her party chose to do the same. One notable member of the GOP who issued a statement in support of the festival was former President Donald Trump.
"Today marks the first day of Kwanzaa, a weeklong celebration of African American heritage and culture," Trump's Sunday statement read. "Together, let us celebrate during this joyous time the richness of the past and look with hope toward a brighter future."
Trump continued, "As families and friends join to light the Kinara, Melania and I extend our warmest wishes for a joyful holiday season and a prosperous year to come."
President Joe Biden also posted about Kwanzaa on social media.
"As we begin the seven days of Kwanzaa, Jill and I send our best wishes to everyone celebrating," Biden wrote on Twitter. "May this time of reflection on the rich heritage of African American culture bring peace, unity, and joy."
Update 12/27/21 12:25 p.m. ET: This story has been updated to include comment from a spokesperson for Rep. Greene.