Marjorie Taylor Greene Calls Lack of Back the Blue Rally Security a 'Clear Setup'
A Columbus, Ohio, Back the Blue rally scheduled for Saturday has been postponed amid security concerns, and Georgia Representative Marjorie Taylor Greene has described the lack of security as being part of a coordinated attempt to make rally attendees look bad.
Greene, who was supposed to headline the event, said she received "incredibly disturbing and infuriating" information from the organizers. She said the organizers were informed there would be a counter-protest by Black Lives Matter and Antifa and the company that manages the location of the rally would not provide security fencing to ensure the safety of the two groups.
"I will not be used as a tool by the left or the right or the media or anyone or blamed for violence caused by radical domestic terrorists BLM/Antifa in a CLEAR SETUP," Greene said in a statement. "We will not play into the hands of the enemies within, who want to provoke violence, hurt innocent people, and then use it in a political spin to tear me down, our great police down, and the freedom-loving people of this country down."
Greene claimed organizers of the Ohio Back the Blue rally held other events at the state's Capitol that had security fencing so everyone's First Amendment and security needs were met. However, lawyers for the Capitol Square Review and Advisory Board (CSRAB), which manages events at the Capitol, and the Ohio State Patrol decided not to provide security fencing for Saturday's event, according to Greene.
Greene also said the CSRAB wouldn't provide security for her or allow her to hire off-duty police officers.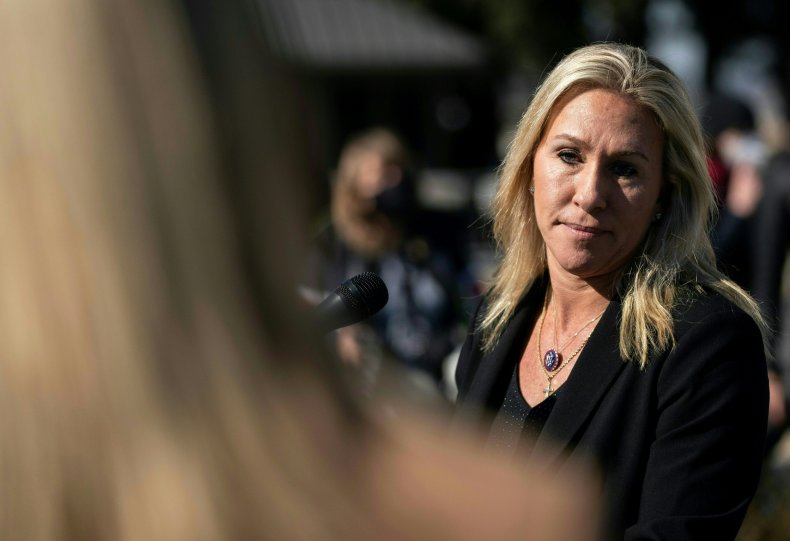 The congresswoman rejected the idea that the lack of security measures were about counter-protesters' First Amendment rights and accused the "apparently woke attorneys" of supporting the counter-protest. She said it sounded like attorneys were creating a "perfect scenario" for people to "lie and blame any violence on pro-police people and police officers."
Greene plans to investigate and "expose" those who were involved in making the decision to "set up innocent people" who planned on attending the rally.
Mike Rupert, communications manager for the CSRAB, told Newsweek that organizers decided on their own to postpone the event and the CSRAB didn't deny the permit or cancel the event. Rupert had no further comment with regards to Greene's accusations.
Chris Dorr, executive director of Ohio Gun Owners, the group organizing the rally, told the Columbus Dispatch that the goal was to make police officers know they're "not forgotten" and "that there's nothing to be ashamed of" or "back down from or apologize for."
In announcing the postponement of the event, Ohio Gun Owners criticized the attorneys for CSRAB and the Ohio State Patrol. Dorr said he was "beyond upset" to deliver the news the rally wasn't happening.