Marjorie Taylor Greene Claims COVID Variants 'Hardly Killing Anyone,' Vaccines Unnecessary
About a week after America passed the grim milestone of 800,000 COVID-19 deaths, Representative Marjorie Taylor Greene claimed that "hardly anyone" is dying of the current COVID-19 variants and mass vaccinations are unnecessary.
Greene repeatedly touts stories about high-risk people beating COVID-19 and vaccinated people still getting sick from the virus, casting doubt on the effectiveness of vaccines.
On Friday, Greene posted on Twitter that vaccines are "only necessary when there is no treatment for a disease" and advocated for research to focus on the development of treatments, not vaccines.
"But there are life-saving treatments for COVID and the variants now are hardly killing anyone," Greene said. "The public should DEMAND the treatments. To go along blindly with tyranny and deception is pure insanity."
Nick Dyer, a spokesperson for the Georgia Republican, told Newsweek that the representative was "clearly" referring to the Omicron variant when she said the variants are "hardly killing anyone."
Omicron quickly became the dominant variant in the United States and has so far shown to predominantly cause mild disease. It's possible as the variant spreads and limits Delta's ability to infect people, America could see hospitalizations and deaths start to decline. Given the common trajectory of the virus, that's likely going to take weeks to determine, though, as hospitalizations often come weeks after surges in cases and deaths lag behind hospitalizations.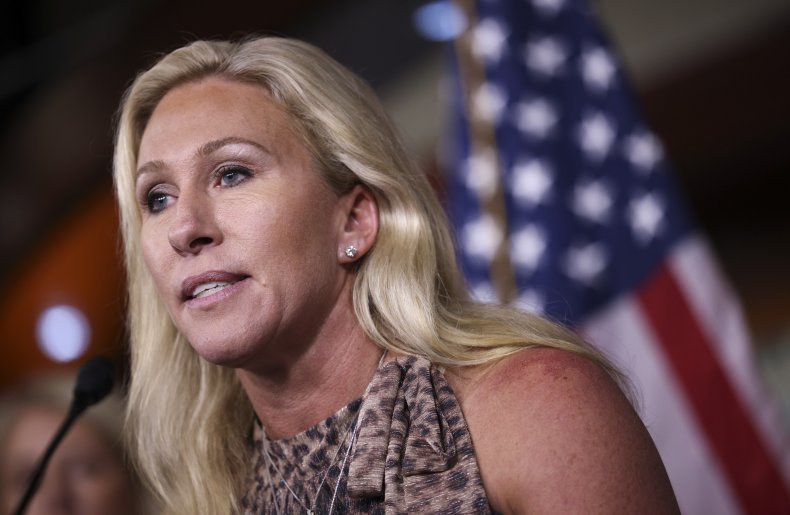 Global experts warn against underestimating the Omicron variant because it's not known for certain how it will impact people. Dr. Michael Ryan, executive director of the World Health Organization's (WHO) Health Emergencies Programme, also noted that even if Omicron is less lethal than Delta, if it's extremely infectious, the world could still see the same raw number of hospitalizations and deaths.
Delta remains the dominant variant worldwide, accounting for more than 90 percent of sequenced cases, according to the WHO, and is known to cause severe disease. While Omicron is fueling current surges in cases, it's likely that Delta is still circulating and is responsible for many of the country's current hospitalizations and deaths.
An estimated 60,000 people are hospitalized because of COVID-19 in America, according to the Centers for Disease Control and Prevention (CDC), and the country is still averaging about 1,200 deaths per day.
The antiviral pills that were recently authorized by the Food and Drug Administration (FDA) could help mark a significant turn in the tide of COVID-19 because they've shown in studies to be extremely effective at preventing people from becoming seriously ill.
They're also the first outpatient therapeutic to be authorized that doesn't require a health care professional to administer, which bodes well for their ability to be used widely. Given how easy they are to store, transport and distribute, the pills could help alleviate strain on hospitals and decrease the death toll from COVID-19.
Greene didn't mention any treatments by name but argued that "too many people" died during the pandemic because they weren't given the chance to try "life-saving COVID treatments." She also argued that people's experience with COVID has varied based on where they live and how they get their information.
Alabama doctors raised concerns about the Biden administration's decision to limit the distribution of monoclonal antibody treatments in September as cases surged. The Department of Health and Human Services limited how many doses that states could order at any given time to better ensure the treatment remained available for future patients.
Dr. Aruna Arora, president of the Medical Association of the State of Alabama, said in a statement that the temporary allocation would add to the "tremendous" stress hospitals were already under and that monoclonal antibodies could be a "lifesaver" if given in the first 10 days of symptoms.
Greene has also advocated for people to file lawsuits against hospitals and doctors who refuse to provide ivermectin to COVID-19 patients. The antiparasitic drug is not authorized for treating COVID-19 and some doctors believe it can have adverse effects on patients, although there's been anecdotal evidence of it improving some patients' clinical outcomes.
Several people filed lawsuits to try to get the drug administered to family members who were hospitalized, some arguing that there was no harm in administering it because the person was likely to die.
Greene wrote on Twitter that many people she knows, some of whom fall into high-risk groups, beat COVID-19 "without being hospitalized" because they received care from doctors who treat their patients with "these life-saving treatments." She added that all of the unvaccinated people she knows who defied shutdowns and got COVID-19 either have natural immunity or were treated.
While Greene argued that vaccines aren't working, health officials have credited vaccines for helping to reduce hospitalizations.
The bulk of hospitalizations in the last and current surge of cases involve people who are unvaccinated and Dr. Michael Benninghoff, section chief for medical critical care at Delaware's Christiana Hospital, the largest hospital in Delaware, told Newsweek that the vaccinated patients he has treated have also had comorbidity that weakened their immune system. The doctor still believes that any strain, regardless of its severity, will negatively impact unvaccinated individuals more than vaccinated people.
Benninghoff also warned against relying on drugs to save your life. It's much easier to prevent COVID-19 than treat it, according to the doctor, and once hospitalized, a person can even have a 50/50 chance of survival. So, while having good treatments is critical to saving lives, vaccines remain an important part of reducing hospitalizations and deaths from COVID-19.