Marjorie Taylor Greene Claims Las Vegas Shooting Was Plotted by Anti-Gun Lobbyists in Resurfaced Video
Conservative conspiracy theorist Marjorie Taylor Greene suggested that the mass shooting carried out in Las Vegas, Nevada, in October of 2017 was part of a wider plot to push gun control legislation in a social media video that resurfaced on Wednesday.
Greene, a known QAnon supporter and vocal proponent of Donald Trump, was recently elected to represent Georgia's 14th congressional district in the U.S. House. Her claims about the 2017 Las Vegas shooting began to circulate alongside a wave of older videos and messages shared to social media, in which Greene promoted false conspiracies surrounding the 2018 school shooting in Parkland, Florida. Both are among the deadliest mass shootings in United States history, resulting in more than 75 fatalities between them, with the Las Vegas shooting being the deadliest.
Sixty people died from fatal gunshot wounds after Stephen Paddock opened fire on the crowd of concertgoers attending the Route 91 Harvest musical festival on October 1, 2017, which took place along the Las Vegas Strip. In addition to those who passed away, upwards of 860 people were injured during the shooting. Paddock, a 64-year-old Nevada resident, committed suicide following the attack.
Greene is a prominent defender of Second Amendment rights and often weaves her opposition to gun control legislation into conspiracy theories that concern mass shootings. This is also the case in Wednesday's resurfaced social media video, where the congresswoman incorrectly claims that anti-gun lobbyists were behind the Harvest festival shooting.
"I've got a question for you. How do you get avid gun owners, and people who support the Second Amendment, to give up their guns and go along with anti-gun legislation? How do you do that?" Greene says at the video's start.
"Maybe you accomplish that by performing a mass shooting into a crowd that is very likely to be conservative, very likely to vote Republican, very likely to be Trump supporters, very likely to be pro-Second Amendment and very likely to own guns," she continues. "You make them scared, you make them victims, and you change their mindset. And then, possibly, you can pass anti-gun legislation."
"Is that what happened in Las Vegas? Is that why the country music festival was targeted?" Greene asks. "Are they trying to terrorize our mindset and change our minds about the Second Amendment? Is that what's going on here?"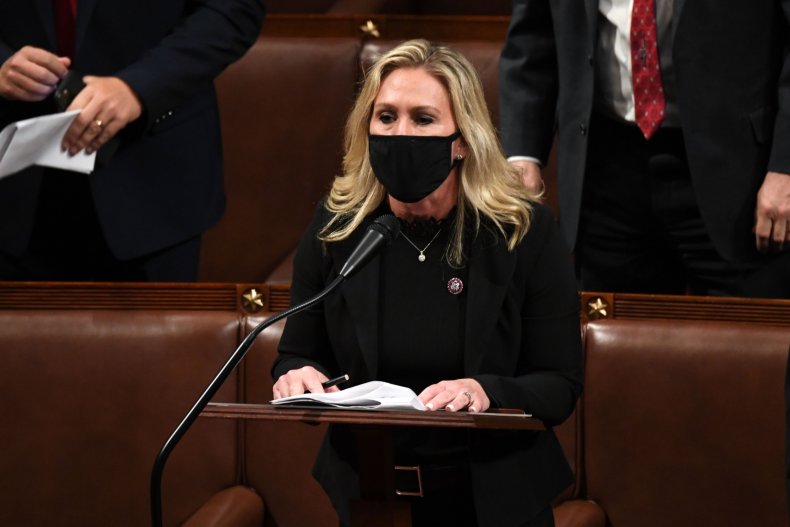 The video was originally shared to a social media account associated with American Truth Seekers, a conservative website focused on conspiracies, which is no longer in operation. Greene previously served as a correspondent for the site.
The congresswoman quickly faced public backlash for her remarks about the Harvest festival attack on Twitter. Journalist David Boardman, former executive editor and Vice President of The Seattle Times, was among those who voiced strong reactions to Greene's claims, calling them "disturbing" in a message posted to the social platform Wednesday afternoon.
Newsweek reached out to Greene's office for comment but did not receive a reply in time for publication.