Marjorie Taylor Greene Clarifies How 'Satan Is Controlling' Catholic Church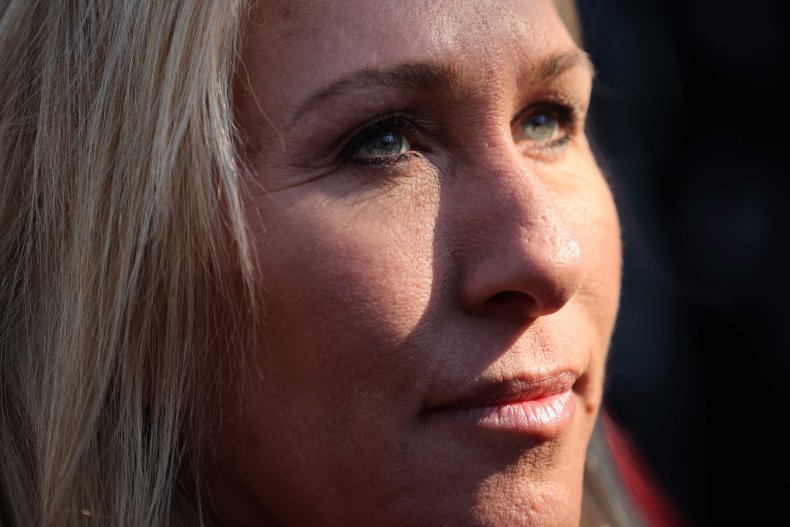 Republican Representative Marjorie Taylor Greene of Georgia has clarified why she said that "Satan" is in control of the Catholic Church following pushback from a Catholic advocacy group.
Greene said "Satan's controlling the church, the church is not doing its job" in a comment on the church's support for undocumented immigrants during a recent interview with right-wing activist Michael Voris of the website Church Militant. After a clip of Greene's comments circulated online Wednesday, Catholic League President Bill Donohue said that she had "slandered" Catholics and demanded that she apologize.
In a long statement shared on Twitter soon after, Greene refused Donohue's demand for an apology, while issuing an apology demand of her own.
"The Catholic League's Bill Donohue accused me of slandering Catholics and Catholicism in an interview I gave to Michael Voris at Church Militant," Greene said. "Nothing could be further from the truth, and he must apologize promptly and publicly for these words."
Greene, currently an Evangelical Protestant, noted that she was "a cradle Catholic," having been "born into the Church."
The Georgia Republican said that she left Catholicism after realizing that she "could not trust the Church leadership to protect my children from pedophiles," referring to the Catholic Church's extensive history of alleged child sex abuse by clergy.
The congresswoman accused Donohue of being a "lapdog" for the Catholic Church and clarified that her earlier comments did not apply to lay Catholics.
"It's the church leadership I was referring to when I invoked the Devil," said Greene. "The bishops know that, but had their loyal lapdog pretend I was being disrespectful about the faith. Just so we're clear, bishops, when I said 'controlled by Satan,' I wasn't talking about the Catholic Church. I was talking about you."
"I refuse to use kinder, gentler language as Bill Donohue might prefer when I talk about his disgusting and corrupt friends, who have made him rich with the donations from ordinary churchgoing Catholics," she added.
Greene's original comments to Voris were in relation to Catholic charities providing aid to undocumented immigrants. Donohue's response said that the congresswoman "had plenty of opportunities to make rational criticisms of the agency, but instead she slandered the entire Catholic Church."
"Satan is controlling the Catholic Church?" Donohue said. "She needs to apologize to Catholics immediately. She is a disgrace. We are contacting House Minority Leader Kevin McCarthy about this matter."
"He's got a loose cannon on his hands," Donohue added, before sharing the email address of Greene's Communications Director Nick Dyer and urging followers to contact him.
Greene's response to Donohue, who leads a group that is generally considered to be politically conservative, concluded with an extended attack on his character. She accused Donohue of doing "dirty work" for bishops and alleged he was a "craven enabler" of child sex abuse for financial gain.
"Forgive me if I decline to take lectures from the man bishops send out to do their dirty work when their delicate feelings are hurt," Greene said. "Until the people running the Catholic Church stop abusing children and stop covering up the abuse of children, I will continue to hold them to account."
"And I'll keep naming and shaming the craven enablers who write their press releases, too," she continued. "I know they've made you rich, Bill, but before you meet Almighty God, you might want to consider new clients."
Newsweek reached out to the Catholic League for comment.