Marjorie Taylor Greene Clashes With Reporter Over 'Jewish Space Laser' Post
Representative Marjorie Taylor Greene is chalking up her now-infamous "Jewish space laser" post to her previous lack of political knowledge.
The Georgia Republican on Monday offered the explanation to a reporter for her widely ridiculed 2018 Facebook post she made before being sworn into Congress. The exchange with the reporter is the latest as Greene has continued to brush aside criticism for trafficking in conspiracy theories that her opponents say have contained antisemitic tropes.
Greene made the remarks during multiple stops on the stump in her district as she campaigns to keep her House seat in the November election, reports ABC affiliate WTVM. While on the campaign trail, Greene was asked by reporters about who she voted for in the Republican primary for governor, among other questions, reports the The Atlanta Journal-Constitution.
In the now-deleted Facebook post, Greene suggested that the Rothschilds, a wealthy Jewish banking family long targeted by antisemitic conspiracy theories, profited from California's wildfires. She also implicated California's Pacific Gas and Electric (PG&E), space solar power company Solaren and other officials.
Greene wrote that "oddly there have been all these people who have said they saw what looked like lasers or blue beams of light causing the fires, and pictures and videos."
Writing that she didn't "know anything about that," she still found it "really curious" that PG&E had a partnership with Solaren on space generators. She further suggested that if Solaren accidently caused the fires when transmitting the sun's energy back to Earth, it "wouldn't look so good for PG&E, Rothschild Inc., Solaren or (then-California Governor) Jerry Brown ... "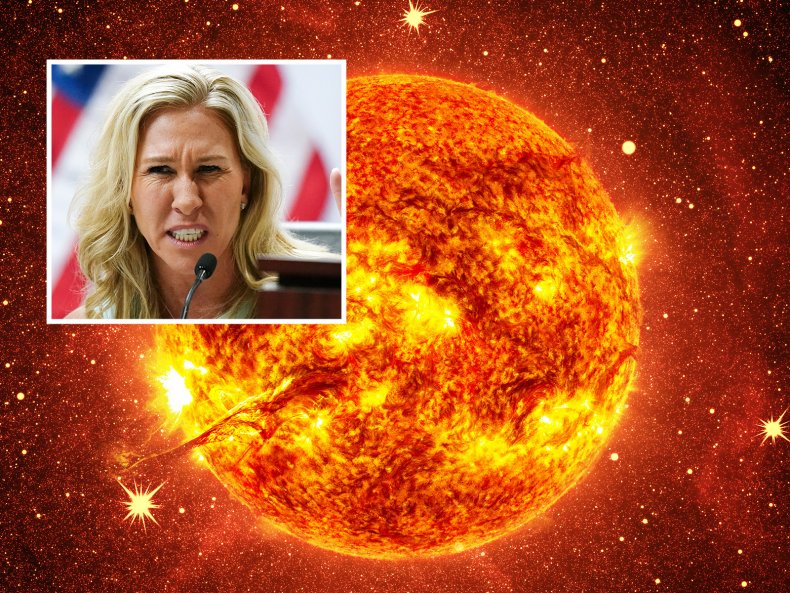 A video shows Greene, flanked by supporters, being asked about the post by a reporter.
"This is your post under your name," the reporter begins.
"Yeah," replies Greene.
"And you're talking about the Rothschild family, which has been at the center of antisemitic conspiracies since the 19th century," the reporter continues.
"I did not know that," Greene interrupts. "I have no idea. I'm telling you."
Greene says in the video that at the time of the post, she was just "a regular American—never been in politics," adding she didn't know the backgrounds, names or families of people in politics.
"But now that you do know, now that you've been told ..." says the reporter before being cut off by a supporter who said people don't care.
"Antisemitism is on the rise at an alarming rate," continues the reporter.
A visibly irritated Greene then fires back.
"You're accusing me of something I did not do, and then you're trying to blame me for antisemitism," says Greene. "You are such a liar. You need to stop."
The reporter asks Greene if she could be inadvertently contributing to antisemitism.
"Not at all," responds Greene angrily. "Listen, I'm a Christian. I support Israel. I am one of the most pro-Israel voters in Congress. So why don't you judge me by those things instead of twisting and turning what you think I was writing in some 2018 Facebook posts?"
After Greene's post was dug up by researchers at left-leaning Media Matters last year, Jewish groups, including the American-Israeli Cooperative Enterprise, called for Greene to step down for spreading the conspiracy theory that they said contained an antisemitic trope.
Previously, Greene has dismissed any report that she believes in a "Jewish space laser" as "fake news."
Newsweek has reached out to Greene for comment.