Marjorie Taylor Greene Compares Invading Russians to U.S. Migrants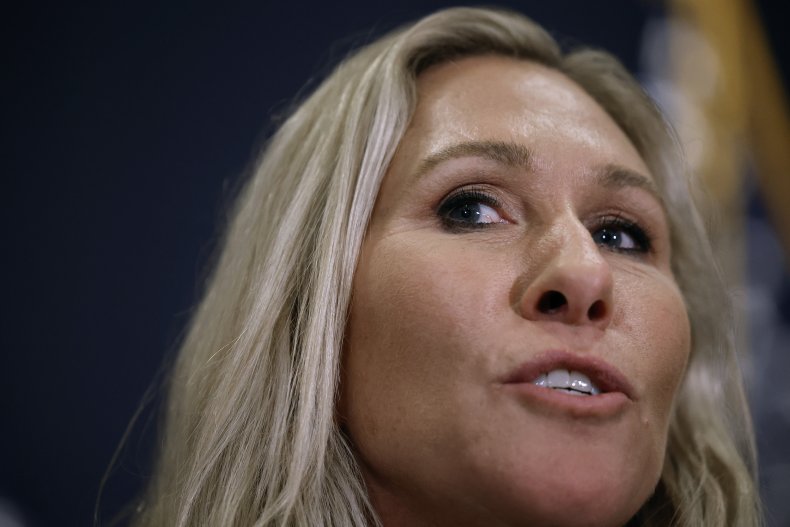 Republican Representative Marjorie Taylor Greene of Georgia has offered a controversial comparison: U.S.-bound migrants to Russian forces invading Ukraine.
Greene made the remark during a press conference on her resolution to investigate U.S. aid to Ukraine on Thursday. The Georgia Republican called for aid to the war-torn country to end, while accusing the U.S. of fighting a "proxy war with Russia." She argued that Americans should be more concerned with migrants attempting to cross the U.S.-Mexico border, which she has described as an "invasion."
Greene said that the administration of President Joe Biden was "ignoring the dangers happening at our border and the national security crisis that's happening in our country" and focusing instead on "completely protecting another country's border."
"We had 5 million people cross our border illegally since Joe Biden took office," Greene said on Thursday, while flanked by GOP colleagues. "Let's compare that to how many Russians have invaded Ukraine. 82,000 Russians have invaded Ukraine."
"I think the American people and the taxpayers of this country deserve to know why the Biden administration and this Congress is so interested in funding the protection of Ukraine's border and not the protection of our border," she continued.
Greene's remarks sparked outrage online. Some accused her of working for Russian President Vladimir Putin. Others pointed out that migrants are typically fleeing from other countries unarmed, with some claiming refugee status, while the Russians invading Ukraine are an offensive military force.
"The stupidity of comparing a military invasion of a country with people fleeing their countries," tweeted Norwegian journalist Morten Øverbye.
"What a simple minded woman Margie Qanon Greene is not understanding that migrants aren't comparable to an invading foreign army," user @trumpsafool tweeted.
"Let's just state the obvious: MTG works for Putin," tweeted @PhilaFlynnie. "Her allegiance is to a stated enemy of the United States."
"Greene's witch hunt is disgusting pro-Putin propaganda in disguise," @KoonsKarl tweeted. "Putin wants to conquer Ukraine so he could put his army on the doorstep of Western Europe: Poland. The Rs would allow him to do just that by cutting off US aid. Putin's war is about more than 'just a border'."
Greene is among the relatively few GOP lawmakers who oppose efforts to send any further aid to Ukraine. Congress has already authorized over $65 billion to the war-torn country, with the White House requesting another $38 billion this week.
According to U.S. Customs and Border Protection (CBP) statistics, there were around 2.2 million border patrol "encounters" in fiscal year 2022, or from October 2021 through September 2022. Over 200,000 additional encounters have occurred since October 1.
During fiscal year 2021, which occurred partly during the administration of former President Donald Trump, from October 2020 to September 2021, CBP figures indicate 1.6 million encounters. It is not clear how many migrants were able to successfully enter and remain in the country illegally.
Greene's figures on the number of invading Russian troops appear to be incorrect. While the Russian government claimed last month that 82,000 out of 300,000 reservists drafted in Putin's partial mobilization had been sent to Ukraine, the total number of Russian invaders is likely to be far higher.
The U.S. estimated Russia's initial invasion force was believed to be around 190,000 in March, according to NBC News. Mykola Bielieskov, research fellow at the National Institute for Strategic Studies in Kyiv, told The Financial Times that up to 250,000 Russian soldiers had been sent to Ukraine by early September.
Newsweek has reached out to Greene's office for comment.