Marjorie Taylor Greene Bemoans GOP Voters Believing 'Liars and Grifters'
Georgia Representative Marjorie Taylor Greene has been mocked on social media after complaining that conservatives are following and believing "liars and grifters."
On her Twitter page on Sunday evening, Greene wrote: "There are grifters and liars that our base believe. Unfortunately.
"These people always claim to know 'the truth' and have 'sources' but always mislead people and grift for donations.
Can't wait for the real news tomorrow. I love being right."
Newsweek has contacted Marjorie Taylor Greene for comment.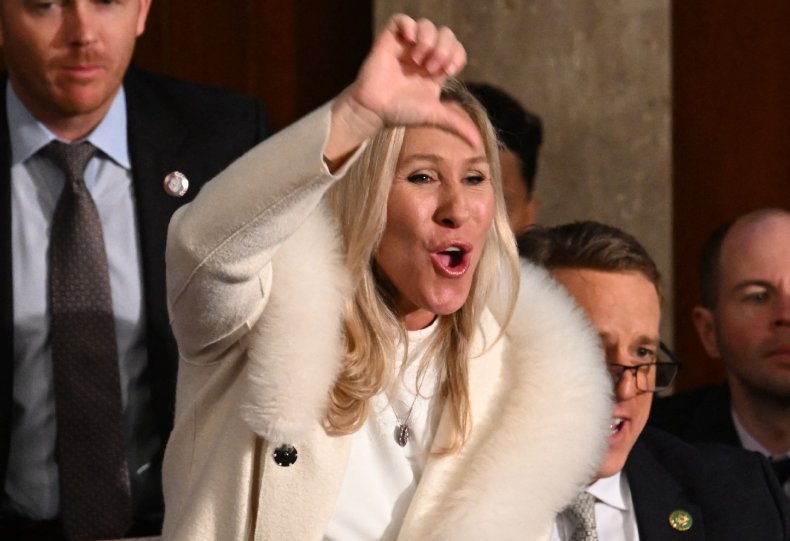 Some social media users questioned what "real news" Greene was referring to while others questioned who the representative was specifically speaking about.
Far-right activist Laura Loomer, who has previously attacked Greene and accused her of working against Trump, took aim at her for the tweet.
She wrote: "[Marjorie Taylor Greene] is mad that I called out her man Kevin McCarthy for not releasing [January 6] footage.
"Maybe the 'grifters and liars' we shouldn't trust and believe are [Speaker McCarthy] and his biggest cheerleader [Greene].
[January 6] trials are taking place right now, and NO FOOTAGE HAS BEEN RELEASED!"
Speaker McCarthy has previously said that he is looking at the possibility of releasing security footage from the January 6 insurrection, despite being advised against this by law enforcement agencies.
Social media user Glen S, a sports photographer according to his Twitter description, wrote: "You 100% backed lying, backstabbing, swamp dweller Speaker McCarthy who is now being true to his colors by backing out of his promises.
95% of the base objected to him because of his history of doing this time and time again while ignoring the will of the voters. Yet you backed him, 100%."
Former U.S. House of Representatives candidate for Virginia, Jarome Bell, tweeted: "You are one of the biggest grifters.
"When are you going to fake come out against your boo [Speaker McCarthy] about not releasing the [January 6] footage that will prove he is a liar just like the Dems and weak a** RINOS that says it was an insurrection."
Many other social media users argued that Greene was describing herself.
Actors Robert Picardo and Yvette Nicole Brown both said that Greene was the "liar and grifter" that her base believes.
Greene has also faced ridicule recently for her behavior during a classified briefing regarding the Chinese spy balloon that was shot down at the beginning of February.
China has denied that the object was a surveillance balloon.
During the briefing, officials from the Biden administration spoke to House members about the incident.
Greene spoke to The Hill and bragged of her antics and said that she "chewed them out just like the American people would've... I tore 'em to pieces."
Representative Steve Cohen said that Greene made a "fool of herself."
While speaking on the Beyond Politics podcast, Cohen said: "She 'didn't know what she was talking about' and embarrassed herself."