Marjorie Taylor Greene Condemns Kevin McCarthy, Steve Scalise and Elise Stefanik for Not Defending Her
Rep. Marjorie Taylor Greene (R-Ga.) condemned Republican House leadership on Wednesday for not defending her amid fallout over her recent comparisons of mask mandates to the treatment of Jews in Nazi Germany.
Greene said that it was "a shame" that House Minority Leader Kevin McCarthy (R-Calif.), Republican Whip Steve Scalise (R-La.) and GOP Conference Chair Elise Stefanik (R-N.Y.) denounced her Nazi analogy during a Wednesday appearance on Newsmax TV's Greg Kelly Reports. Greene praised Speaker of the House Nancy Pelosi (D-Calif.) in comparison, albeit with a backhanded compliment claiming that Pelosi supports fellow Democrats even when they "stand with Hamas terrorism."
"You have to have respect for Nancy Pelosi, in that she never allows attacks on her own," said Greene. "She defends them even when they sleep with Chinese spies, when they attack Israel, when they stand with Hamas terrorism.... Kevin McCarthy never had to say a word. He could have said, 'You know, you should ask Marjorie about her words and ask her what she has to say.'"
"That would have been the right answer for him," Greene added. "So, it's unfortunate that he took this route. And he didn't even text me or call me, which is really a shame... Elise Stefanik, our new GOP chair, followed suit right along. And then I think Steve Scalise and others. And they shouldn't have done that."
Greene went on to argue that "the media, as usual, twists and turns my words," before complaining that it was "terrible how people are being treated in this country about masks and about vaccine passports." She said that the efforts to combat COVID-19 were "the exact type of aggressions" that "tyrants in the past" had used.
Newsweek reached out to the offices of McCarthy, Scalise and Stefanik for comment.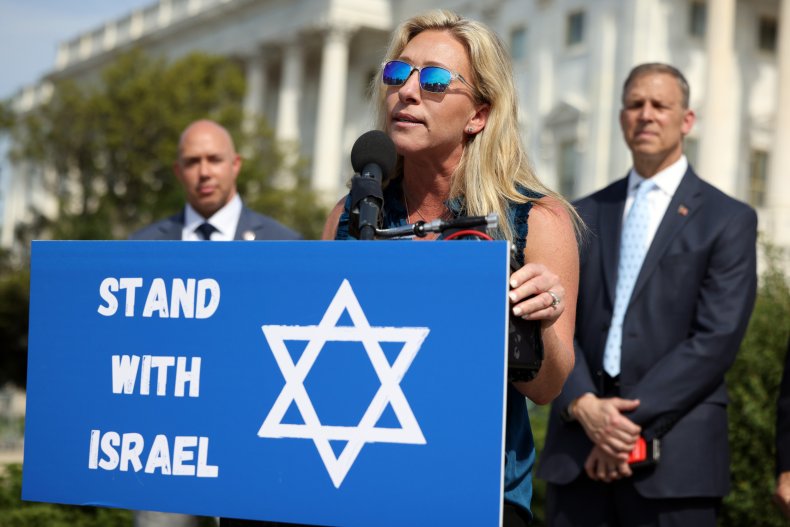 On Tuesday, Greene shared a tweet that described McCarthy as a "moron" and "feckless c**t" for issuing a statement that denounced her analogy as "appalling" and "wrong." Greene praised the author of the tweet for "seeing the truth" before quickly deleting her retweet.
She began making comparisons between the policies of Nazi Germany and mask mandates last week. During an appearance on the right-wing news network Real America's Voice, Greene compared Pelosi's pledge to require masks on the House floor until all members are fully vaccinated against COVID-19 to Jews being "put in trains and taken to gas chambers in Nazi Germany."
Greene has continued to make similar comparisons since then and has attracted widespread scorn from both Democrats and Republicans in the process. Greene denounced on Twitter the "Nazi policies" of universities that require COVID-19 vaccines for in-person classes on Tuesday, while also insisting that a grocery store giving employees name tags that show they are vaccinated was "just like [when] the Nazi's forced Jewish people to wear a gold star."