Marjorie Taylor Greene, Debbie Dingell Spar on Capitol Steps After Abortion Rights Vote
Georgia Representative Marjorie Taylor Greene was involved in a verbal altercation about abortion with Representatives Pete Aguilar and Debbie Dingell on the steps of the U.S. Capitol Friday after Democrats passed the Women's Health Protection Act.
"Try being a Christian and supporting life!" Greene, a far-right Republican, is heard yelling in various phone videos from reporters who captured the incident.
Zak Hudak, a Congressional reporter for CBS News, shared a video of the incident on his Twitter account Friday afternoon. He claimed that a staff member for Greene appeared to have "filmed her on a cell phone as she picked this fight."
Various other snippets of dialogue picked up include Greene using the word "evil" and saying, "You should all be ashamed" to the group of Democrats gathered on the Capitol steps.
Aguilar, the vice-chair of the House Democratic Caucus, was standing near Greene at the time and commented that she was being "performative."
"No, you're performative," Greene replied.
Dingell then interjected. She can be heard replying to Greene, "You should be ashamed for your lack of civility."
"Killing a baby up until birth is a lack of civility. It's called murder," Greene responded angrily.
"How about the border down there? Lack of civility," Greene continued. "How about lack of laws or protecting our Constitution..."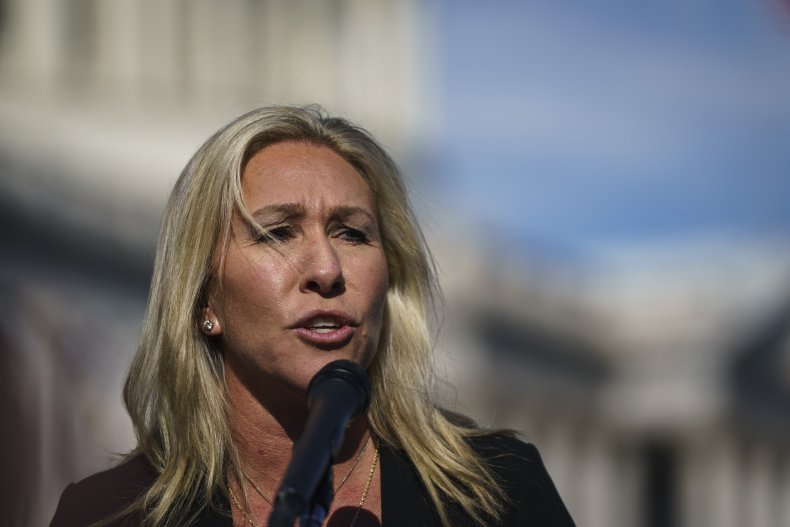 "We have lots of laws we follow," Dingell said. "You should practice the basic thing you're taught in church: Respect your neighbor!"
"Taught in church? Are you kidding me? Try being a Christian and supporting life!" Greene shot back.
"You try being a Christian and treat your colleagues decently!" Dingell replied.
New Jersey Representative Frank Pallone came to Dingell's side in what may have been an attempt to help steady her balance.
"Watch your step, lady. You're going to fall down," Greene said. "Control yourself."
Dingell and Pallone then turn away from Greene as she walked away.
The heated exchange occurred as Democrats gathered on the Capitol steps for a "Build Back Better for Women" photo-op following the passage of the Women's Health Protection Act. The passed legislation would codify Roe v. Wade into law to ensure abortion access and is seen as a response to the recent Texas law that bans abortion after six weeks, which is before most people realize they are pregnant.
Though the bill passed in the House of Representatives, it is predicted to face a harder time reaching the 60 votes necessary to pass in the Senate.
When reached for comment by Newsweek, Greene, through a spokesperson, defended her comments on the Capitol steps and opposition of abortion rights saying, "All Democrats are evil and will kill unborn babies all the way up to birth and then celebrate."
Newsweek also contacted Dingell and Aguilar for comment but did not hear back in time for publication.
Update (09/24/21, 4:35 p.m. ET): This story has been updated to include comments from Rep. Greene.