Marjorie Taylor Greene Declares America in 'Spiritual War' After Swatting
Representative Marjorie Taylor Greene, a Georgia Republican, spoke on a Sunday podcast about her stance on gender-affirming treatment for transgender children, saying that the country is in a "spiritual war" as some critics consider some of her opinions controversial.
"I don't know how we got in a place where my stance is controversial," she said during an interview with Human Events Daily podcast host Jack Posobiec. "I think it just shows you, we are in a true spiritual war in America. And you can see the attacks on me are proof of it."
The congresswoman was referring to the alleged "swatting" calls that she says were targeting her this week. Swatting is the act of making hoax emergency calls that are meant to bring in a SWAT team and emergency personnel to a location.
Police officers were sent to Greene's home Wednesday morning after receiving an emergency call reporting that a man was shot five times in a bathtub and that a woman was inside the house possibly in the presence of children. The GOP lawmaker's office said the incident was a "political attack on her family and home," while her spokesperson Nick Dyer said that Greene was safe and that "whoever committed this violent crime will face the full extent of the law."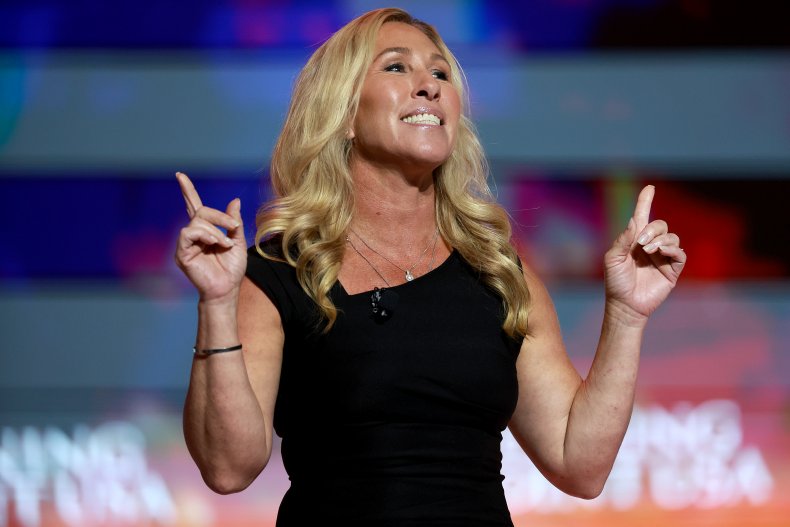 One of the suspects, who made the call, allegedly told police that the original 911 call was made using a computer-generated voice, adding that the motive behind it was related to the congresswoman's statements about "transgender youth rights," and that "they were trying to SWAT her."
Earlier this month, Greene said that she will introduce a bill that would federally ban gender-affirming medical care for transgender children. Her bill would block federal funding for all gender-affirming care, ban colleges from teaching gender-affirming treatments, and prevent any foreign nationals who provide the care from entering the country.
The GOP lawmaker has repeatedly expressed her stance on gender-affirming treatment, saying that it's "disgusting and appalling," even though it is supported by major mainstream medical organizations such as the American Medical Association and the American Academy of Pediatrics.
She continued defending her stance on Sunday, and said that a person who "stands up and fights for what is right" is targeted by critics.
"I think it's so important for everyone to realize, this is the world we live in today," she added. "And so we basically just need to understand how to get comfortable being uncomfortable because if you're in the fight, if you're trying to protect kids and trying to do what's right. If you're a Christian, and you're trying to live out your Christian faith, you're going to be attacked for it."
The congresswoman also said that the accusation made against her that she is targeting trans children is "an absolute lie," and that all she is trying to do is say "leave kids alone. Let them grow up before they make these permanent changes to their body. Radical awful changes that they cannot undo."
"I don't know how we got to a place in our country, Jack, where it's controversial, to say protect kids," she added. "We have to protect them. We have to protect their identity. We just have to say this is not a time for children or any person to make such a radical decision...that will last a lifetime for these children and they're not even old enough to vote."
Newsweek reached out to Greene's office for comment.