Marjorie Taylor Greene Defends Nationalist Speech as 'She Is a Nazi' Trends
Marjorie Taylor Greene, a Republican representative from Georgia, has defended her endorsement of "Christian nationalism" after the term "she is a Nazi" trended on Twitter.
Greene was accused on Monday of being a "Nazi" by Twitter users commenting on her defense of Christian nationalism while speaking on Saturday at the Turning Point USA Student Action Summit in Tampa, Florida. The Georgia Republican later shared a clip of her speech alongside the comment, "Nationalist isn't a bad word" because it "means you care about your country."
"I am being attacked by the godless left because I said I'm a proud Christian Nationalist," Greene said in a statement sent to Newsweek, which was also shared on Twitter. "These evil people are even calling me a Nazi because I proudly love my country and my God. The left has shown us exactly who they are. They hate America, they hate God, and they hate us."
Many of those who commented on the "she is a Nazi" trending topic said that they knew the phrase was referring to Greene before even looking at the related tweets. Christian nationalism has been heavily associated with far-right extremism in the U.S. in recent years, including white supremacy.
"She is a Nazi is trending and I just KNEW who they were talking about," media personality Perez Hilton tweeted alongside an animated GIF of Greene referring to the "Gazpacho police."
"Don't even need to click on 'She Is a Nazi' to know it's about MTG," tweeted journalist Jennifer M. Wood.
"She is a Nazi," producer Kim Sherrell tweeted. "The Jewish space laser thing was a tip-off."
"When She Is A Nazi is trending, of course it's about Marjorie Taylor Greene," writer Paul Rudnick tweeted. "Because that's how friends signed her yearbook, what her guidance counselor told her parents, and what her kids tell anyone who asks what their Mommy does for a living."
"Georgia's 14th District is currently represented by someone trending on Twitter under 'She is a Nazi,'" tweeted Marcus Flowers, Greene's Democratic challenger in November's election. "We're going to change that in November and restore decency and respect to NW Georgia."
Christian nationalism is defined as "the belief that the American nation is defined by Christianity, and that the government should take active steps to keep it that way," according to an article published by Christianity Today in 2021.
Critics of Christian nationalism, including hundreds of evangelical leaders, argue that it violates the separation of church and state, while also encouraging discrimination against people of non-Christian faiths and those who do not follow any religion.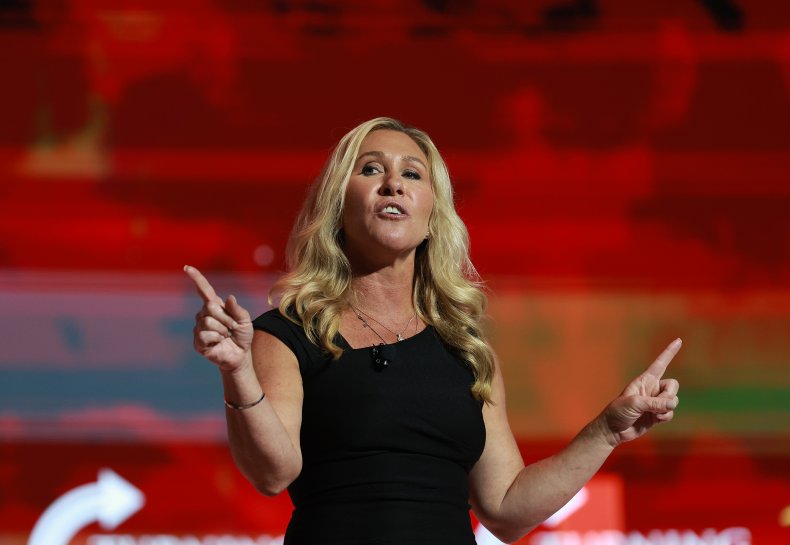 Greene previously received criticism for praising Christian nationalism during a stream of her MTG:Live web show last month, when she said that Americans should be "most proud of Christianity" and said that those who argue "Christian nationalism is something to be scared of" were "lying to you."
"Christian Nationalism was THE religion of the Third Reich!" Dr. Leah Schade, the Associate Professor of Preaching and Worship at Lexington Theological Seminary in Lexington, Kentucky, tweeted at the time. "Christian Nationalism is DEFINITELY something to be afraid of!"
Although Greene is urging the Republican Party to embrace Christian nationalism, any possibility of lawmakers making the ideology the formal law of the land is limited by the First Amendment of the U.S. Constitution, which explicitly prohibits Congress from making any law "respecting an establishment of religion."
Newsweek reached out to Greene's office for comment.