Marjorie Taylor Greene Defends Vaccine Comment After Twitter Suspends Her
Georgia GOP Representative Marjorie Taylor Greene defended her tweet that vaccines are "failing," saying she was just "speaking the truth" before Twitter suspended her from the platform.
Greene's refusal to get vaccinated or wear a mask has drawn ire, but the congresswoman has only doubled-down on her pushback to the public health measures amid the criticism.
On Tuesday, she was suspended from Twitter for a week after she posted on the social media platform that the Food and Drug Administration (FDA) should not approve COVID-19 vaccines because they are "failing" at reducing the spread of the virus.
In a statement to Newsweek, Greene stood by her opinion that the FDA should not approve any of the COVID-19 vaccines "until more research is done." She said she has vaccinated family members who contracted COVID and noted that there have been other breakthrough cases, as well.
"Twitter suspended me for speaking the truth, and tweeting what so many people are saying," Greene said.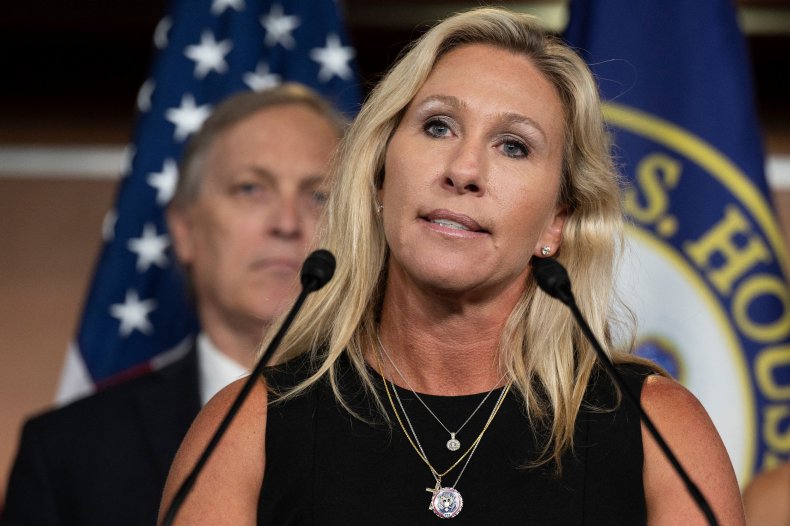 Twitter told Newsweek that Greene's account was put on "read only" mode for a week after she was found to have violated the policy. Per Twitter's suspension policy, this indicates that she has had three prior violations and the next step would be to suspend her permanently.
Greene's tweet that got her suspended from the platform also noted that there are reports of vaccinated people contracting COVID-19 and spreading the virus. While the congresswoman views this as a failure of the vaccines, health officials see the low hospitalization rate among vaccinated people as proof that people should get inoculated.
Vaccinations, including those for COVID-19, are not 100 percent effective, so the Centers for Disease Control and Prevention (CDC) always expected there to be some breakthrough cases. However, vaccines are still believed to reduce a person's chances at contracting COVID-19 and for helping to prevent them from becoming seriously ill if they do test positive.
South Carolina Republican Senator Lindsey Graham, who tested positive for COVID last week, said he was experiencing mild symptoms that were relatable to a sinus infection. He posted on Twitter that he was grateful to have been vaccinated because he believed his symptoms would have been much worse if he didn't have that protection.
His encouragement of unvaccinated people to get the shot is a stark contrast from Greene's stance on the issue. She's pushed back on vaccine and mask mandates and said neither vaccines nor masks work before she got suspended from Twitter.
Greene criticized Twitter for catering to the "fragile hypocrites" on the platform and for only caring about the "radical left narrative." The Georgia congresswoman also took issue with her suspension in light of the fact that people can discuss their child's gender transition on the platform.
"But Twitter won't allow any real discussion of the truth from an elected Congresswoman because Twitter only cares about the Democrat Communist agenda for America," Greene's statement concluded. "It's a good thing my voters couldn't care less about Twitter."