Marjorie Taylor Greene Deletes Retweet Calling Kevin McCarthy a 'Feckless C**t' and 'Moron'
Rep. Marjorie Taylor Green (R-Ga.) shared, praised and then deleted a tweet describing House Minority Leader Kevin McCarthy (R-Calif.) as a "moron" and "feckless c**t" on Tuesday.
Hours before Greene shared the tweet, McCarthy had blasted her for making an "appalling" analogy between her struggle to comply with the mask mandate imposed by House Majority Leader Nancy Pelosi (D-Calif.) and the plight of the Jews who lived in Nazi Germany. Greene praised Twitter user @ASimplePatriot for "seeing the truth" by denouncing McCarthy's criticism and complimenting her support for Israel. She deleted her retweet minutes later.
"Look you moron, nobody supported Israel in their recent conflict with Hamas more than MTG," the original tweet replying to McCarthy read. "Her analogy may not have been perfect but you seriously need to get a grip you feckless c**t. Pelosi is the villain here."
"Thank you for seeing the truth and how much I support Israel and stand against the left's support for Hamas terrorists," Greene commented while sharing the tweet.
Pelosi has demanded that House members continue to wear masks until all members are vaccinated against COVID-19. Although the Centers for Disease Control and Prevention loosened guidelines to allow for vaccinated people to go without masks last week, the mask guidance remains in place for those who are not fully vaccinated. Some Republican members of Congress, including Greene, have refused the vaccine.
"Marjorie is wrong, and her intentional decision to compare the horrors of the Holocaust with wearing masks is appalling," McCarthy said of Greene in a statement. "Let me be clear: the House Republican Conference condemns this language."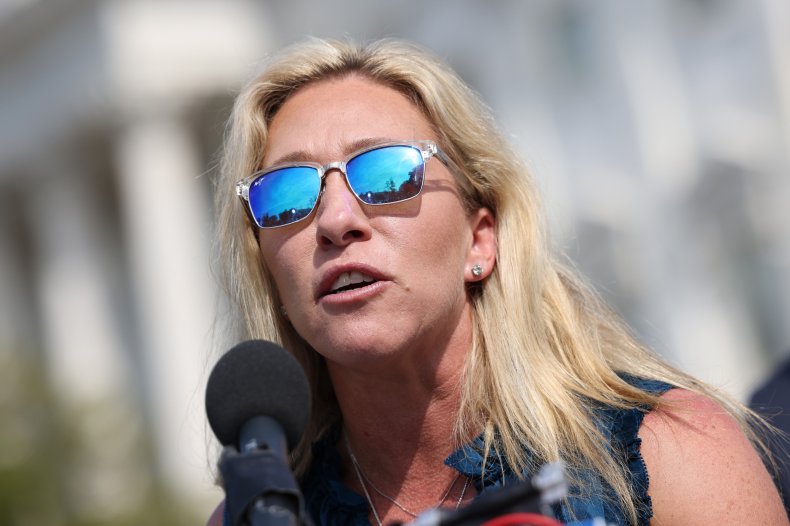 Greene has faced mounting criticism from both the left and right since she first compared Pelosi's mask mandate to Nazi atrocities last week. She has refused to apologize or back down from the comparison, instead making additional related analogies since then.
On Tuesday, Greene tweeted that "it appears Nazi policies have already begun on our youth" while sharing an article about a university requiring students be vaccinated to attend in-person classes. She also complained about a grocery store's name tags including information about employees being vaccinated, saying it was "just like [when] the Nazi's forced Jewish people to wear a gold star."
After conservative political commentator Ben Shapiro called her analogies "demented nonsense," Greene accused him of "feeding into the left wing media attacks" and claimed that she was only referring to "the discrimination against Jews in early Nazi years."
However, Greene did appear to make a direct comparison between Pelosi's mask mandate and the mass murder of Jews during the holocaust during her initial round of controversial remarks, referring to Nazi gas chambers specifically.
"We can look back in a time in history when people were told to wear a gold star and they were definitely treated like second-class citizens," Greene said last Thursday during an appearance on the right-wing network Real America's Voice. "They were put in trains and taken to gas chambers in Nazi Germany. And this is exactly the type of abuse Nancy Pelosi is talking about."
Newsweek reached out to the offices of Greene and McCarthy for comment.