Marjorie Taylor Greene Demands Joe Biden Remove Kamala Harris as She Signs Letter
Georgia Republican Congressperson Marjorie Taylor Greene says she is proud to have signed a letter to President Joe Biden urging him to replace Vice President Kamala Harris in her role controlling illegal immigration at the U.S. border.
The Trump loyalist, together with 56 GOP lawmakers, wrote to Biden on June 17, to voice their "serious concerns" about Harris' appointment in handling the increase in people trying to enter the country at the southern border illegally.
Harris was personally tasked by Biden with controlling crossings the border but has since been criticized by high-profile GOP and right-leaning figures for not visiting the region since her appointment.
"I'm proud to sign this letter ... the border needs to be secured. Kamala is failing," Taylor Greene tweeted on Monday. She later took to Instagram, adding: "Kamala and Joe have purposefully failed our country at the border!"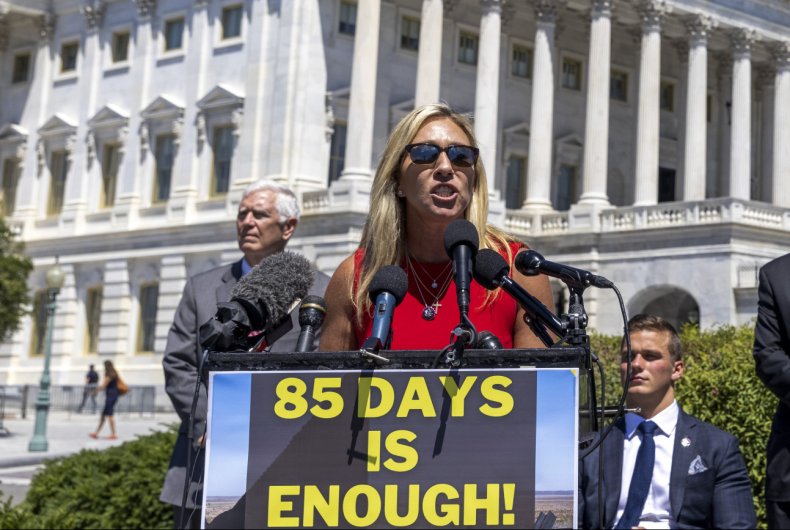 The letter references recent figures released by the Customs and Border Protection (CBP), stating they encountered 180,034 people at the U.S.-Mexico border in May 2021, compared to 23,237 during the same month last year—a 675 percent increase.
"Despite being in the midst of a border crisis this country has not seen in two decades, Vice President Harris has not yet shown adequate interest in observing this crisis first-hand," the letter read.
"In the 85 days since the Vice President has been tasked with solving this crisis, she has yet to visit the border and meet with Border Patrol agents, Immigration and Customs Enforcement (ICE) officials, and local law enforcement officials.
"In our experience, it is important to meet with these officials to learn about their perspectives and observations about the origins and motivations of the thousands of people coming here every day. It is an insult to our hardworking Border Patrol, ICE, and local law enforcement officials that put their lives on the line every day that the Vice President has yet to speak with them."
The letter concludes by urging Biden to remove Harris from the role, arguing that "this country cannot afford another minute of inaction from Vice President Harris."
"We have all made mistakes in hiring and understand when someone else needs to be assigned to a task. We sincerely urge you to find someone else in your administration to assist you in getting a handle on this border crisis."
Harris has made the topic of immigration a focus throughout her career.
However, she has recently come under fire for not only failing to visit the border personally, but also for her responses when asked why this was the case.
In an interview with NBC News last week, Harris falsely claimed that she had visited the border, before laughing and adding that she also hasn't been to Europe as Vice President when questioned on the remark.
"At some point, you know, we are going to the border. We've been to the border. So this whole thing about the border. We've been to the border. We've been to the border," Harris told NBC's Lester Holt.
"You haven't been to the border," Holt replied.
"And I haven't been to Europe," Harris added. "And, I mean, I don't understand the point that you're making. I'm not discounting the importance of the border."