Marjorie Taylor Greene Disqualification Push 'Like Rwanda Stuff': Gaetz
Representative Matt Gaetz compared the challenge against Representative Marjorie Taylor Greene's eligibility to run for reelection to the Rwandan civil war, saying that barring Americans from office "should never happen in our America."
"This should never have been allowed to occur to my colleague, but if I know anything about MTG, she's tougher than they are," Gaetz told One America News on Monday. "She'll come out of this even stronger, but we've got to think about legislation—or something at the federal level—to simply allow people to be candidates."
"This is like Rwanda stuff, saying that, 'Well, we've deemed you an enemy of the state so you can't run for office.' For goodness sakes, that should never happen in our America," the congressman said.
The civil war in Rwanda began on October 1, 1990, after the rebel Rwandan Patriotic Front constructed all Tutsis as enemies of the state and launched a genocide that spanned 100 days.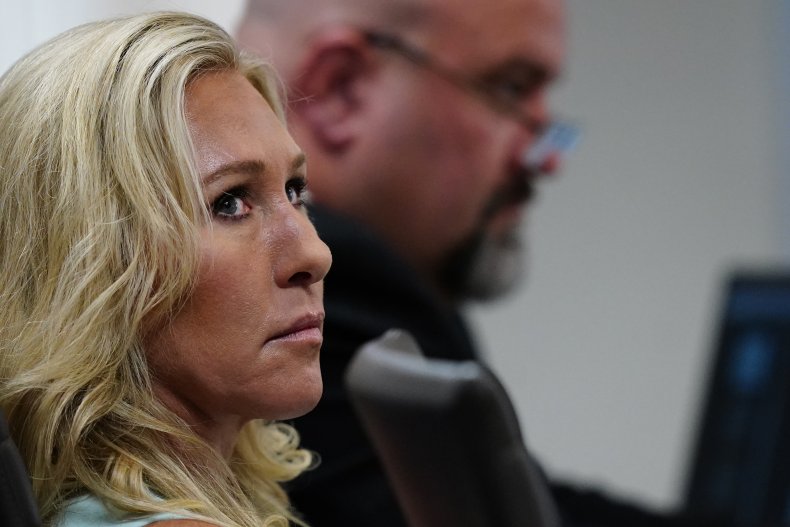 A group of Georgia voters in Greene's congressional district are challenging the congresswoman's eligibility to run for reelection under the 14th Amendment's insurrection clause, alleging that she helped facilitate the January 6 Capitol riot.
In a challenge filed last month, the group alleged that "before, on, and after January 6, 2021, Greene voluntarily aided and engaged in an insurrection to obstruct the peaceful transfer of presidential power, disqualifying her from serving as a Member of Congress."
On Monday, Gaetz, who attended last week's court hearings in Atlanta in support of his Republican colleague, claimed that the reason Green and Representative Madison Cawthorn, another controversial GOP congressman from North Carolina, are being questioned as politicians is because Democrats lack an evenly matched candidate to run in those districts.
"I think there are a number of places where the left knows that they can't win the election with the voters, and so they're trying to use a legal process to deprive voters of even being able to make a choice," the Florida congressman said.
"The reason Democrats have to do this is because they don't have an actual agenda to run on that's popular with anyone," Gaetz added. "And so they're using fear as a political tool. That's the January 6 committee. That's this, you know, bringing up the ghosts of white supremacy to try to construct a bunch of fear around that. And then in the electoral space, they're trying to channel that fear construction into tactical steps to remove people from the ballot."
The congressman said legal challenges like the ones against Greene are not only sending a message to individual politicians, "but to everyone who is in our government, or running for positions in our government: don't talk about these things or we will turn the power of the regime against you."
Despite the threat to Greene's eligibility, the congresswoman has remained optimistic that she will not only win reelection following the May 24 primaries but that the GOP will win back the House of Representatives in the midterms.
Over the weekend, Greene said that when the Republicans do, she'd want to serve on the Oversight, Judiciary and Foreign Affairs committees.
She was stripped of her assignments in February 2021 after a House vote addressing her endorsement of executing several Democratic figures.
Newsweek reached out to Greene's office for comment.