Marjorie Taylor Greene Doesn't Want to Be in D.C., Calls it a 'Sh--hole'
Representative Marjorie Taylor Greene, a freshman legislator whose quickly becoming a household name, would rather be living her "American dream" than in Congress.
Greene's become a controversial figure in Congress for her past social media activity, comments on the House floor and unwavering support of former President Donald Trump. However, she told Steve Bannon that she never wanted to be in politics and doesn't enjoy Washington, D.C., life, so she isn't planning on being a career politician.
"I don't want to be here at all. I gave up an awesome life," Greene told Steve Bannon on his Pandemic War Room podcast. "I gave up an American dream to come into what I consider to be a sh--hole because I'm pissed off. Because I'm watching the greatest country in the world on fire and burning down and this is going to affect my children and my grandchildren."
Greene's issue with D.C. goes beyond the corruption and partisan politics, according to someone from Greene's office. They told Newsweek she was also unhappy with the "crazy restrictions" in the Capital, pointing to masks, limited restaurant capacity and the increased security measures at the Capitol campus.
"This is supposed to be the nation's capital where people can come visit but unfortunately, because of Democrats in leadership, D.C isn't this beautiful Capitol area it should be," Greene's office said.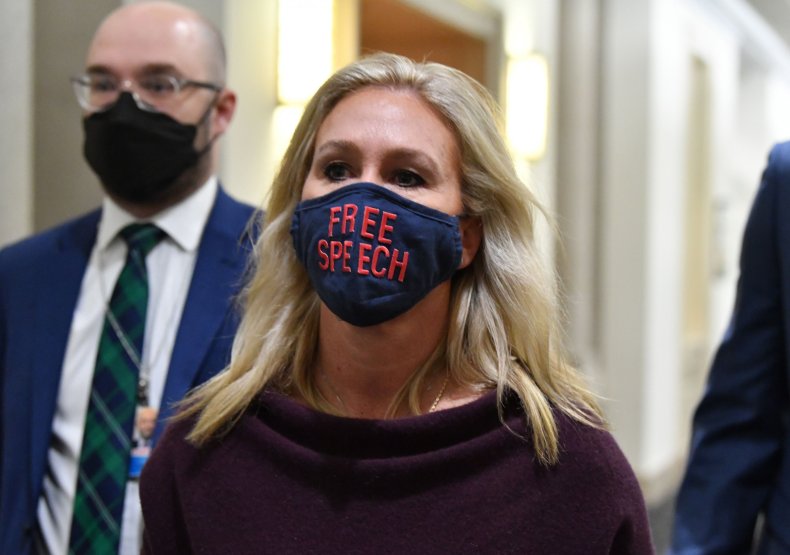 In the interview, the Georgia representative targeted the "woke progressive" firehose that's "tearing down our freedoms and eroding every single part of the American culture." She's used her ability to motion Congress to adjourn to delay votes, irking Democrats in Congress who need to vote to stay in session, a tactic she recently deployed in an attempt to block the passage of the Equality Act.
She later hung a sign saying there are two genders outside her office, which is located across the hall from Representative Marie Newman, whose daughter is transgender. She faced criticism for her floor speech and the sign, including from Republican Representative Adam Kinzinger, and was stripped of her committee assignments weeks earlier over controversial social media postings and comments.
The criticism appears to do little to temper Greene, who posted on Twitter on Thursday that she ran for office to "represent the people, not the politicians."
Greene co-owned a construction company with her husband before she decisively won her seat in the House in November by more than 50 points. She told Bannon she was inspired by former President Donald Trump but "never wanted" to be in politics and she's still not fond of it, saying "I'm actually disgusted with politics."
On Bannon's podcast, the freshman representative was critical of the money that's in politics, calling it an industry and an "economy in itself." She criticized both Democrats and Republicans for their investment in keeping the industry going because their "livelihood depends on it," since their connections and business opportunities are pegged to it.
She doesn't plan to be a career politician, according to a person from her office, but won't constrict herself to a specific number of terms. The congresswoman wants to see "how much change" she can enact to Congress and how it works.
"I know the system has to be torn down," Greene said. "Every day that we can put Congress to a stop, we are saving the country."