Marjorie Taylor Greene Doubles Down, Says 'Any Rational Jewish Person' Would Oppose Masks
Rep. Marjorie Taylor Greene has doubled down on her comments comparing mask mandates to the Holocaust.
On Thursday, the Georgia congresswoman branded House Speaker Nancy Pelosi "mentally ill" after Pelosi announced that a mask requirement on the House floor would remain in place until all members were vaccinated.
And in an appearance on Real America's Voice show The Water Cooler, Greene compared Pelosi's decision to steps the Nazis took during the Holocaust.
"You know, we can look back at a time in history where people were told to wear a gold star, and they were definitely treated like second-class citizens, so much so that they were put in trains and taken to gas chambers in Nazi Germany, and this is exactly the type of abuse that Nancy Pelosi is talking about," Greene said.
Her comments were condemned by Jewish groups and other lawmakers, but Greene told a reporter that she stood by them on Friday night, adding that "any rational Jewish person" would also oppose "overbearing" mask mandates.
"No one should be treated like a second-class citizen for saying 'I don't need to wear a mask,' or saying that my medical records are my privacy based on my HIPAA rights, and so I stand by all of my statements," Greene told 12 News reporter Bianca Buono after a GOP rally with Rep. Matt Gaetz, another controversial GOP figure, in Mesa, Arizona.
"I said nothing wrong. And I think any rational Jewish person didn't like what happened in Nazi Germany, and any rational Jewish person doesn't like what's happening with overbearing mask mandates and overbearing vaccine policies," Greene added.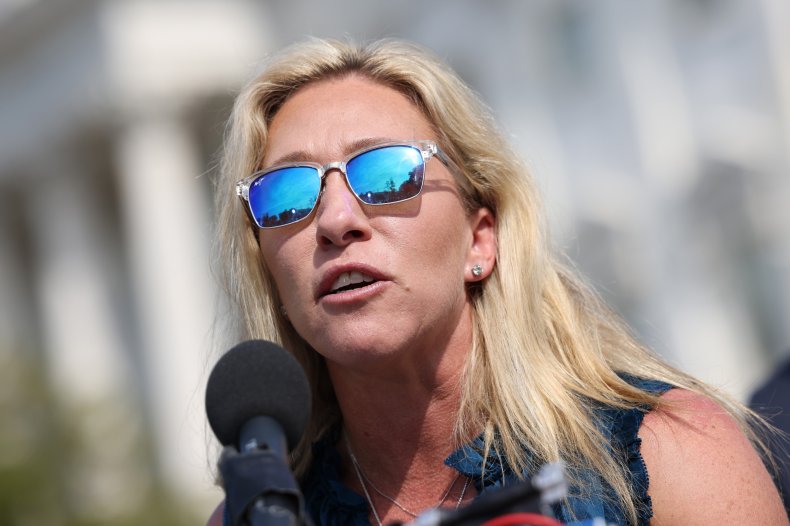 Buono asked the congresswoman if she understood why people might find the comments offensive, to which she replied: "Well do you understand how people feel about being forced to wear masks or being forced to have to take a vaccine or even have to say that whether they'd taken it or not?
"These are just things that shouldn't be happening in America. This is a free country and it's just ridiculous to have these kinds of conversations."
On Friday, the American Jewish Congress (AJC) issued a rebuke of Greene's comments and called on her to apologize and retract her comments.
"You can never compare health-related restrictions with yellow stars, gas chambers & other Nazi atrocities," the AJC said in a tweet. "Such comparisons demean the Holocaust & contaminate American political speech. Rep. Marjorie Taylor Greene must immediately retract and apologize," the organization said.
Greene's office has been contacted for additional comment.