Marjorie Taylor Greene Drafting Articles of Impeachment for Biden Over Afghanistan
Republican Georgia Representative Marjorie Taylor Greene says she's working on articles of impeachment as President Joe Biden faces steep criticism over his administration's Afghanistan withdrawal strategy.
On Monday, Greene appeared on Real America's Voice' War Room Pandemic with host Steve Bannon, where she revealed that her team is currently drafting articles of impeachment against Biden.
"I have my team right now working on articles of impeachment," Greene said. "Because I'm so disgusted with Joe Biden. You know I've already filed one set of articles of impeachment. But his failure as a president is unspeakable."
Greene went on to praise former President Donald Trump, saying "Trump right now is more presidential and he's not even in the White House than Joe Biden can ever be or stand up to in the past seven months."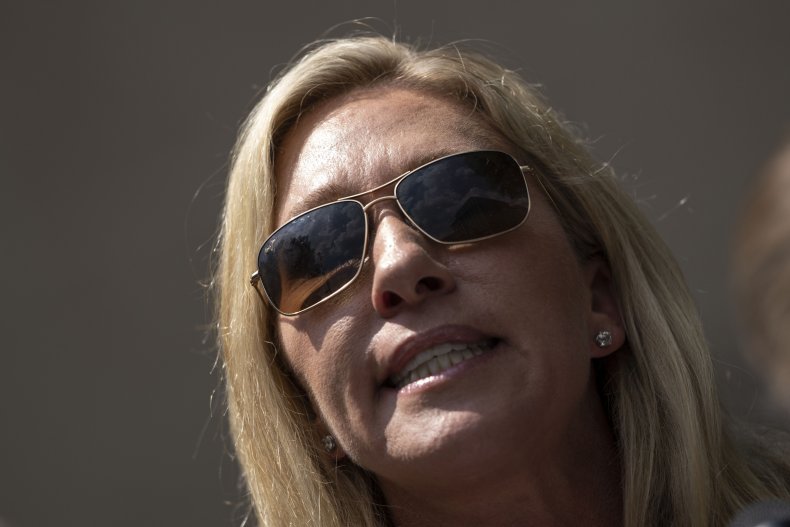 Greene also referenced the Taliban as she spoke out in support of Americans owning assault-style rifles.
"I wouldn't be surprised at all if [the Biden administration] are paying the Taliban," the lawmaker said. "After all, they are paying them with weapons, vehicles, Blackhawk helicopters because the Afghan army is handing them over as fast as possible."
"Anytime any Democrat ever speaks to America about gun control again, and they want to talk to you about your AR-15, you tell them right now how many weapons and how many semi-automatic weapons did you hand over to terrorists in Afghanistan, to the Taliban, ISIS and possible Al-Qaeda before you ever talk to Americans about gun control," Greene added.
Trump and a slew of congressional Republican have criticized the Biden administration for their withdrawal from Afghanistan.
"It is time for Joe Biden to resign in disgrace for what he has allowed to happen to Afghanistan, along with the tremendous surge in COVID, the Border catastrophe, the destruction of energy independence, and our crippled economy," Trump said in a statement.
Senate Minority Leader Mitch McConnell said that the withdrawal from Afghanistan was "mishandled."
"The exit, including the frantic evacuation of Americans and vulnerable Afghans from Kabul is a shameful failure of American leadership," he added in a statement.
Representative Jeff Van Drew of New Jersey called on Biden to resign as president.
"I cannot believe I'm saying this, it literally is time for this president to resign," Drew told Fox News host Trey Gowdy Sunday. "It is time for this vice president to resign. It is time for the Senate president and Speaker to resign. We need new people, even new Democrats, hopefully that are moderates."
Taliban soldiers stormed Kabul on Sunday after seizing most of Afghanistan following the withdrawal of U.S. troops. Taliban claimed that "the war is over" after Afghan President Ashraf Ghani fled the country Sunday morning.
Trump was impeached by the House of Representatives on December 18, 2019, on abuse of power and obstruction of Congress charges. He was later acquitted of all charges on February 5, 2020.
The former Republican president was impeached again on January 21, 2021, on an incitement of insurrection charge following the January 6 Capitol riot.
Newsweek reached out to the White House for comment.