Marjorie Taylor Greene Details How Attack on Her at Restaurant Unfolded
Representative Marjorie Taylor Greene, who said she was attacked while out with her staff at a restaurant, has now given more details of the altercation.
On Monday evening, the Georgia Republican took to Twitter to explain that a woman and her son had shouted at her like they were "demons".
While speaking to Sean Hannity on his Fox News show on Tuesday night, Greene argued that the attack was a result of Democrats telling voters to "surround" and attack Republicans for their views.
Greene initially tweeted: "I was attacked in a restaurant tonight by an insane women and screamed at by her adult son. They had no respect for the restaurant or the staff or the other people dining or people like me who simply have different political views.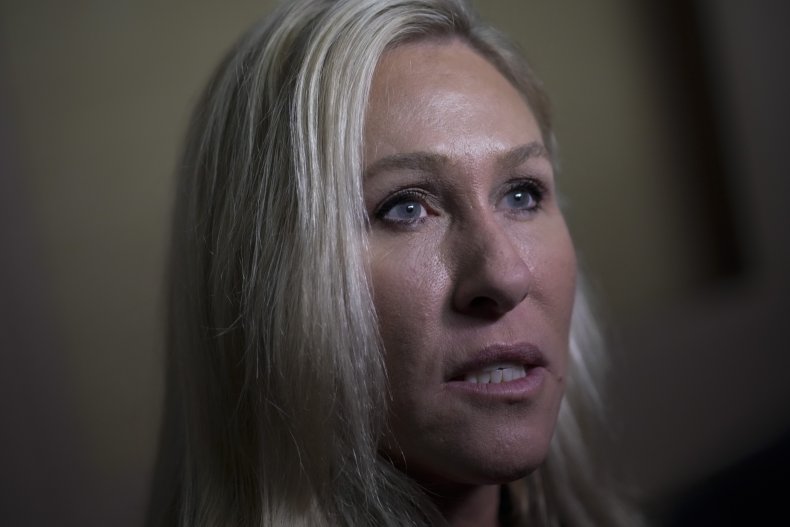 "They are self righteous, insane, and completely out of control. I was sitting at my table, working with my staff, and never even noticed these people until they turned into demons.
"People used to respect others even if they had different views. But not anymore. Our country is gone."
Speaking on Hannity's show, she said: "Last night I was having dinner with two members of my staff and we were working and preparing for committee hearings today.
"Then we were approached, a woman came up to my table and came and stood very close to me and started verbally attacking me and calling me all kinds of names.
"Then another member of her party started screaming 'F you Marjorie' as loud as he possibly could over and over again inside this restaurant.
"They have no respect for the restaurant, the staff and the other people dining there."
Greene then argued that Republicans were being treated like "second-class citizens" and this was due to the rhetoric that had been pushed by Democratic figures like former presidential candidate Hillary Clinton and U.S. Representative Maxine Waters, a California Democrat.
She added: "There is no line the [Democrats] will not cross.
"It is disrespectful, they are insane, they are crazy and it needs to stop right now."
Newsweek has asked representatives of Hillary Clinton and Waters for comment.
Hannity said other Republicans had experienced similar confrontations and it may reach a point where elected officials have their own security while out in public.
Paul Pelosi, husband of then Democratic House Speaker Nancy Pelosi, suffered a fractured skull when he was attacked by a hammer-wielding intruder in his house in San Francisco last October.
Greene did not reveal at what restaurant the incident took place or how the staff behaved when the altercation took place. Newsweek has contacted her for comment.
Some social media users argued that Greene has often acted in a similar manner, shouting down other people with differing political views.
Most recently, Greene caused a stir by heckling and shouting during President Joe Biden's State of the Union address.
When Biden accused "some Republicans" of wanting to cut social security and Medicare during his speech, Greene booed loudly at the president.
"Instead of making the wealthy pay their fair share, some Republicans want Medicare and social security to sunset. I'm not saying it's the majority," Biden said.
"You lie! You lie! Liar," Greene shouted.
Some social media users also shared videos of Greene arguing with members of the public to suggest that Greene could also be accused of not behaving appropriately.