Marjorie Taylor Greene Faces Backlash Online for Calling Biden President of 'Communist China'
Georgia Republican Congresswoman Marjorie Taylor Greene described newly inaugurated President Joe Biden as the president of China. Meanwhile, China's government imposed sanctions on some members of the administration of former President Donald Trump.
Greene, a freshman lawmaker who aligned herself closely with Trump, said in January that she would introduce articles of impeachment against Biden for abuse of power. Greene has alleged that Biden and members of his family received money from foreign entities, including the Chinese Communist Party.
Trump's departure from the White House was lauded by the Chinese media. Former Secretary of State Mike Pompeo was one of the Americans sanctioned by China's government, prohibiting them from doing business with the country.
Greene, who has voiced support for conspiracy theories in the past, referred to Biden as "China Joe" in a Wednesday tweet.
"President @JoeBiden is going to play clueless Grandpa by standing aside and allowing America's enemies to go after his political enemies," Greene tweeted.
"Communist China has their President ... China Joe."
Author Brian Solis responded to Greene's tweet by referring to her espousal of conspiracy theories.
"Welp, when you aim to sow division through lies and conspiracy theories, that's the way the fortune Qookie crumbles, I guess," Solis wrote.
"Don't you have a job to do?" wrote Seattle resident Kevin Zelko. "Twitter is not how politicians work. Go make the country better. Become a representative for your state. Not a Twitter account."
Communications Director for United Rural Democrats Max Pinkerton offered a suggestion for Greene's political future.
"You should leave," Pinkerton tweeted. "Now."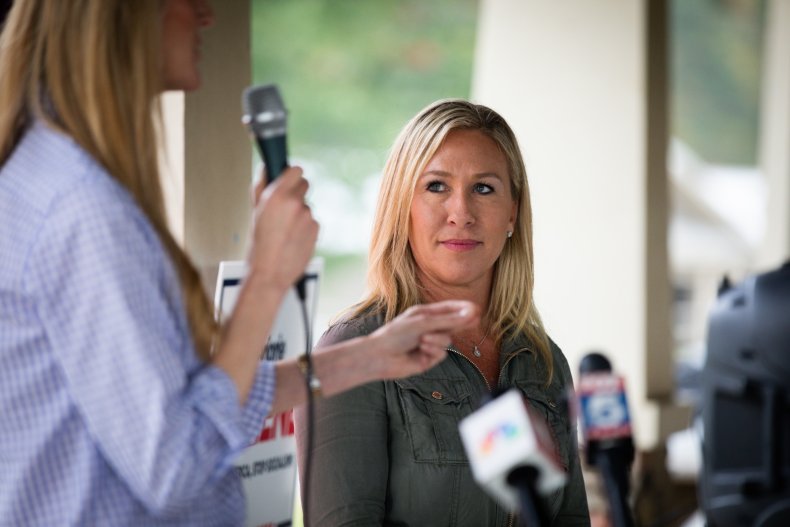 "Sit down," tweeted songwriter Tom Maxwell. "Your time has passed, and your hero's defeated."
Twitter user Cranky Old Dude wrote, "Deal with it sweety." Embedded in his tweet was a GIFof Biden smiling at the camera.
Greene's comments about Biden's connections with China came in the wake of China's announcement of sanctions against some American lawmakers.
On Tuesday, Pompeo equated China's treatment of minority ethnic communities, including the Muslim Uighurs, to genocide. Both the U.S. and human rights groups have alleged that China is holding more than 1 million individuals from ethnic minorities in concentration camps. The U.S. government has placed sanctions against some members of the Chinese government in response to the treatment of the Uighurs. After Trump left office on Wednesday, China announced reciprocal sanctions.
In a statement from China's foreign ministry, a spokesperson alleged that some U.S. lawmakers "have planned, promoted and executed a series of crazy moves which have gravely interfered in China's internal affairs, undermined China's interests, offended the Chinese people, and seriously disrupted China-U.S. relations."
Among the 28 individuals blacklisted by the Chinese government are Pompeo, Trump's former Director of Trade and Manufacturing Policy Peter Navarro, former Health and Human Services Secretary Alex Azar and former national security adviser John Bolton. Sanctions were also announced against former Asian diplomat David Stilwell and Trump's former chief strategist Steve Bannon. Trump pardoned Bannon, who had been charged with fraud, on Wednesday.
According to the statement, the individuals named and their immediate family members are prohibited from entering China, Hong Kong and Macao.
Newsweek reached out to the Embassy of the People's Republic of China in the United States of America for further comment.