Marjorie Taylor Greene Falsely Claims New York Passed Bill to Forcibly Vaccinate People
New York legislators could pass a bill that allows unvaccinated individuals to be detained or forcibly inoculated, but it hasn't passed either of the chambers, as Representative Marjorie Taylor Greene claimed.
Speaking at AmericaFest on Sunday, Greene told attendees that the New York House passed a bill that allows for unvaccinated people deemed a "danger" to society could be detained. Greene said the government would have a "hell of a time if they wanna hold me down and give me a vaccine," and received cheers and applause when she announced she was unvaccinated.
"Things are getting to a place where they shouldn't be," Greene said.
When asked for comment about Greene's claim that New York passed a bill that allowed for unvaccinated people to be detained, Nick Dyer, a spokesperson for Greene, sent Newsweek a tweet from the legislator that linked to a National Pulse story about bill A416.
Assemblymember N. Nick Perry introduced the bill at the beginning of the year and Greene is correct that it would allow the governor or their delegee to detain people who are deemed to pose an "imminent and significant" threat to public health. However, she's incorrect that it passed any chamber of the New York legislature.
The bill is still being held in committee and has not had a vote in the Assembly or the state Senate.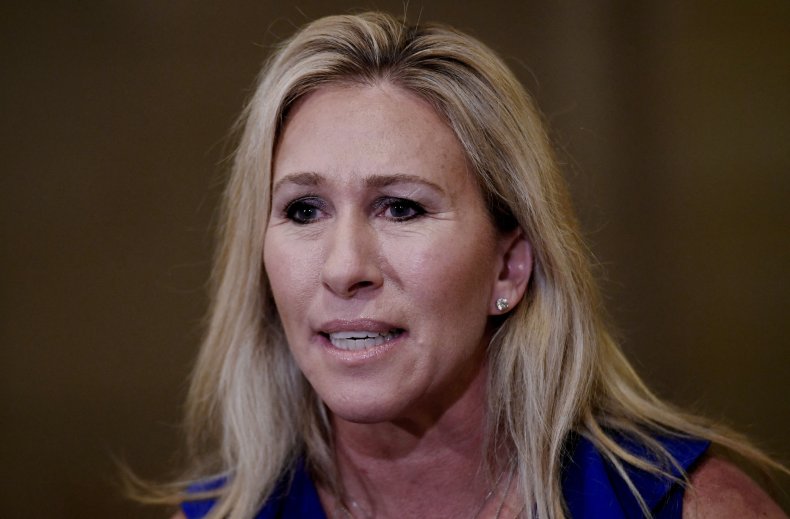 If a person needs to be detained more than three business days and requests release, the governor or their delegee must ask for a court order authorizing a longer detention. Absent a court order, a person cannot be detained more than five days after their request for release.
People cannot be held for more than 60 days without a court order, according to the bill, however, it leaves open the possibility of the government requesting additional court orders to extend the detention period. To be considered for detention, a person must be a confirmed case, close contact, carrier or suspected case of a "contagious disease threat." People may not be detained after the department determines they're no longer contagious.
The bill also grants the governor or their delegee power to "issue and seek enforcement" of other orders that they determine are necessary to "prevent dissemination or transmission of contagious diseases or other illnesses." This includes requiring people who were exposed or infected by a contagious disease to "complete an appropriate, prescribed course of treatment, preventative medication or vaccination."
Newsweek reached out to Perry for further comment but did not receive a response in time for publication.
This is the fourth time Perry's introduced legislation that would allow the government to detain people who pose a threat to public health. In a statement in January, he said the bill was originally introduced to address public health concerns when Ebola was spreading. He said he believes the Constitution is sacred and there was no "intent" or "plan" to take away or violate liberties Americans are entitled to under our Constitution.
"I am convinced that most smart Americans, faced with the deadly consequences of having a person who is a carrier of a very deadly virus roaming freely through any community, would support public action to contain such a person from contaminating and potentially bringing certain death to persons they have contact with," Perry said.
The legislator noted that the bill hasn't been pushed for passage because Ebola is no longer a threat. However, he said a "deadly pandemic" is still a real threat and there may be a need in the future to protect people from those carrying a "very deadly and transmissible virus."
The bill garnered significant attention earlier in the year as people homed in on it as an authoritarian conspiracy. Perry said he received threats over it, telling Politico he thought he would need Secret Service protection.
Many have commented on the legislation that they oppose the measure, with one person saying it was going a "little too far" even though they support vaccines and mask wearing. Some called it "barbaric," "tyrannical," and "anti-American," and some commented that they would move if it passed.
It's unclear where Greene got her information that it already passed the Assembly and was headed to the state Senate for a vote. Dyer didn't respond to Newsweek's request for clarification.