Representative Marjorie Taylor Greene disagreed with Representative Matt Gaetz about who led House Speaker Kevin McCarthy to launch an impeachment inquiry into President Joe Biden on Tuesday.
McCarthy, a California Republican, announced a formal inquiry into Biden over the business dealings of his son, Hunter Biden, during a press conference Tuesday morning. House Republicans began probing the younger Biden's business dealings soon after taking control of the House in January.
"Today, I am directing our house committee to open a formal impeachment inquiry into President Joe Biden this logical next step will give our committees the full power to gather all of the facts and answers for the American public," McCarthy said.
The announcement comes amid turmoil in the House Republican conference, with the right-leaning flank becoming increasingly frustrated with McCarthy over the slow pace of the Biden investigations, support for Ukraine and a looming showdown over legislation to fund the government through the next fiscal year that could lead to a government shutdown.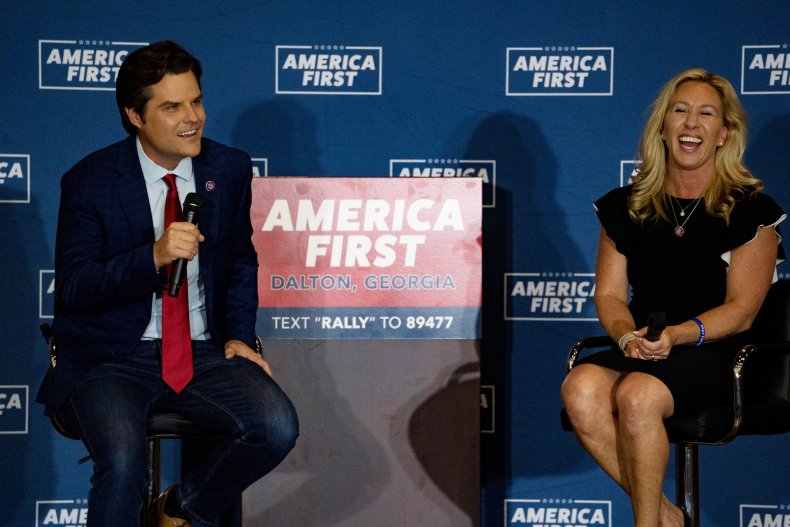 Gaetz, a Florida Republican, has been at the forefront of McCarthy criticism, hinting that he could file a motion to vacate the speakership position, a measure in the House rules McCarthy agreed on to placate conservatives who opposed his leadership.
Following news that McCarthy planned to announce the impeachment inquiry, Gaetz wrote in a post to social media platform X, formerly Twitter, that the speaker appeared to be listening to his threats.
"When @SpeakerMcCarthy makes his announcement in moments, remember that as I pushed him for weeks, @kilmeade said I was: "Speaking into the wind" on impeachment. Turns out, the wind may be listening!" he wrote.
Greene, a Georgia Republican and McCarthy ally, disputed his remarks.
"Correction my friend. I introduced articles of impeachment against Joe Biden for his corrupt business dealings in Ukraine & China while he was Vice President on his very first day in office," she wrote. "You wouldn't cosponsor those and I had to drag you kicking and screaming to get you to cosponsor my articles on the border. Who's really been making the push?"
Gaetz responded to Greene in a statement to Newsweek, praising her work in fighting for impeachment.
"Nobody has fought harder for impeachment than MTG. She continues to have my support. Kevin doesn't deserve her," he wrote.
Newsweek also reached out to Greene's office via email for comment.
Gaetz and Greene have made headlines as right-wing hardliners and fierce opponents of the Biden administration. The two have remained allies in Congress, though they have not always seen eye-to-eye, including during the days-long vote to elect a speaker. While Greene supported McCarthy, Gaetz backed other contenders viewed as more in line with the MAGA movement.
They have aligned on the issues of Biden impeachment and investigations. McCarthy's announcement only set up an inquiry, not a formal vote, in a bid to obtain access to the Biden phone records.
A formal impeachment may face more difficult odds in the House, as several Republicans representing Biden-won districts try to avoid alienating their more moderate constituents. Some Republicans, such as Representative Ken Buck of Colorado, also a staunch conservative, have voiced skepticism about impeachment.