Marjorie Taylor Greene Files Impeachment Articles Against Biden, Fundraises Off Effort
Rep. Marjorie Taylor Greene announced on Thursday that she has filed articles of impeachment against President Joe Biden.
"I just filed articles of impeachment on President Joe Biden," Greene said in a video posted to Twitter. "We'll see how this goes."
According to a press release posted to Twitter by Greene, the impeachment articles are for Biden's "corrupt actions involving his quid pro quo in Ukraine and his abuse of power by allowing his son, Hunter Biden, to siphon off cash from America's greatest enemies Russia and China."
"President Joe Biden is unfit to hold the office of the Presidency. His pattern of abuse of power as President [Barack] Obama's Vice President is lengthy and disturbing," Greene wrote in the statement. "President Biden is even on tape admitting to a quid pro quo with the Ukrainian government threatening to withhold $1,000,000,000 in foreign aid if they did not do his bidding. President Biden residing in the White House is a threat to national security and he must be immediately impeached."
Greene went on to list a number of details and reasons for why she is filing the articles of impeachment.
Her announcement comes on the second day of Biden's presidency.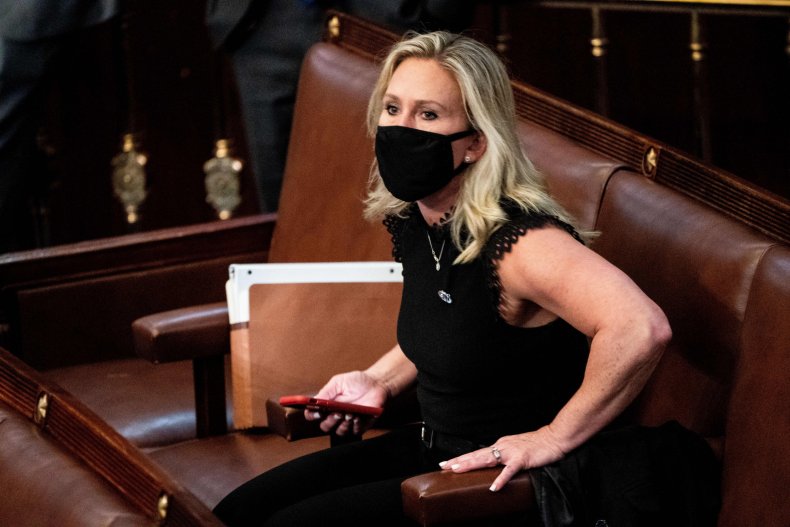 Shortly after her announcement, David Corn of Mother Jones posted a tweet showing Greene fundraising off of her effort to impeach Biden.
"Please - join my effort to impeach Joe Biden and donate at least $45 today," Greene wrote according to the screenshot of her fundraiser. "I am fighting for you in Congress, and I need your help to ensure we can stop the criminal Biden enterprise before it's too late."
Greene also has a petition posted on her campaign website for supporters to sign, showing their support for the congresswoman's attempt to impeach Biden.
Greene previously announced her plans to file impeachment articles against Biden last week.
"I would like to announce on behalf of the American people, we have to make sure that our leaders are held accountable. We cannot have a president of the United States that is willing to abuse the power of the office of the presidency and be easily bought off by foreign governments, foreign Chinese energy companies, Ukrainian energy companies," Greene said while appearing on Newsmax's Greg Kelly Reports on January 13. "So on January 21, I will be filing articles of impeachment on Joe Biden."
During her interview she made points similar to those in her statement, saying that "Joe Biden is on record, on the phone, saying that he will withhold a billion dollars of foreign aid if he didn't get his way with these deals with his son."
While Greene claimed that Biden threatened to withhold foreign aid from Ukraine, a fact-check from USA Today, previously stated that this claim is false. The fact-check stated that while serving as vice president, Biden withheld the aid in an effort to persuade to Ukrainian government "to oust its top prosecutor as part of anti-corruption efforts endorsed by other international players that were unrelated to his son."
Newsweek reached out to Greene for comment but did not receive a response in time for publication.