Marjorie Taylor Greene Gets CPAC Crowd to Boo Zelensky With False Claim
GOP Representative Marjorie Taylor Greene got the crowd at this year's annual Conservative Political Action Conference (CPAC) to boo Ukrainian President Volodymyr Zelensky after she promoted a false claim that Ukraine wants Americans to help fight in the war against Russia.
On Friday, audience members at Greene's conference speech were heard booing in response to her remarks that Zelensky "wants our sons and daughters to go die in Ukraine."
The Georgia congresswoman's comments referred to a viral video of Zelensky during which the Ukrainian president said, "the U.S. will have to send their sons and daughters exactly the same way as we are sending their sons and daughters to war."
However, the clip that circulated on line appeared to be missing context that Zelensky was talking about a hypothetical situation in which Russia were to attack NATO member states, not the current conflict in Ukraine.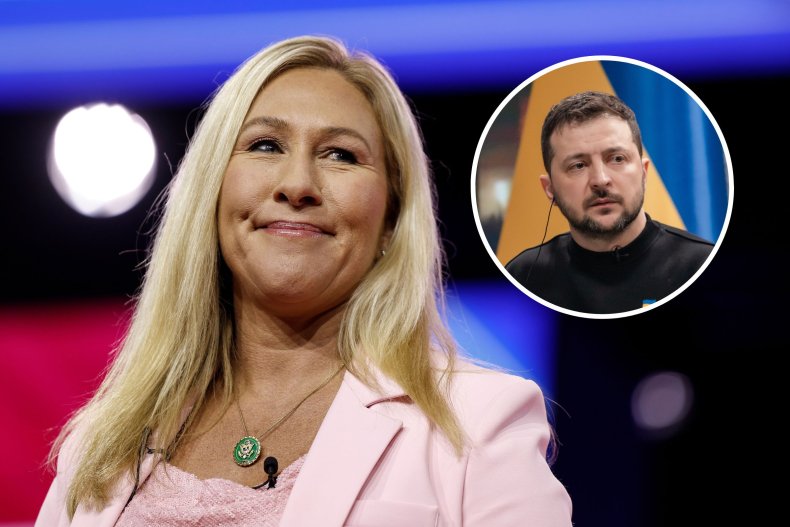 Under Article 5 of the NATO treaty, allies are to view "an armed attack against one or more of them in Europe or North America shall be considered an attack against them all." Ukraine is not a member of NATO.
In the complete remarks from last month's news conference, Zelensky said during the briefing that marked the one-year anniversary of Russia's invasion of Ukraine. "If it happens so that Ukraine, due to various opinions and weakening, depleting of assistance, loses, Russia is going to enter Baltic states, NATO member states, and then the U.S. will have to send their sons and daughters exactly the same way as we are sending their sons and daughters to war.
"They will have to fight. Because it's NATO that we're talking about, and they will be dying, God forbid, because it's a horrible thing."
Although social media claims that Zelensky was calling on American troops to fight in Ukraine have been debunked, Greene promoted the narrative more than once during her CPAC address.
"I'm still committed to saying, 'No money to Ukraine, and that country needs to find peace not war,'" Greene said on Friday. "I will look at a camera and directly tell Zelensky, 'You better leave your hands off our sons and daughters, because they're not dying over there.'"
When asked about her claims, Greene spokesperson Nick Dyer told Newsweek, "Newsweek is nothing more than a left-wing propaganda machine."
This year's CPAC has received national attention over the attendee list. Although the conference has long touted itself as "the largest and most influential gathering of conservatives in the world," a number of prominent Republicans, who have been seen as possible 2024 presidential hopefuls, opted not to attend the four-day event, including Florida Governor Ron DeSantis, former Vice President Mike Pence, South Carolina Senator Tim Scott, Virginia Governor Glenn Youngkin and South Dakota Governor Kristi Noem.
"It's a missed opportunity for any potential presidential candidate to not address the thousands of grassroots activists at CPAC this year," conference spokesperson Megan Powers Small told ABC News last weekend.
CPAC has also drawn controversy after its chairman, Matt Schlapp, was accused of sexually assaulting a former staff member of Herschel Walker's 2022 Senate campaign. Schlapp has denied the allegation.
Update 3/3/23, 4:33 p.m. ET: This story was updated with comment from Nick Dyer.