Marjorie Taylor Greene to GOP: 'We Should Be Christian Nationalists'
Speaking at an event for young conservatives on Saturday, Representative Marjorie Taylor Greene, a Georgia Republican, argued that Republicans should embrace being "Christian nationalists."
The congresswoman appeared at the Turning Point USA Student Action Summit this weekend in Tampa, Florida. Among the many things she discussed while onstage, she discussed the label of "Chrisitan nationalist" that critics have often given her. She argued that being a Christian nationalist is a positive thing, and urged the young conservatives in attendance to more prominently mix Christianity with politics.
"That's not a bad word," Greene said. "That's actually a good thing. There's nothing wrong with leading with your faith...If we do not live our lives and vote like we are nationalists—caring about our country, and putting our country first and wanting that to be the focus of our federal government—if we do not lead that way, then we will not be able to fix it."
Greene repeated that sentiment over the weekend during a video interview for a conservative online show, a clip of which was shared on Twitter by prominent left-wing pundit and former federal prosecutor Ron Filipkowski.
"We need to be the party of nationalism," the Georgia lawmaker said during the interview. "I'm a Christian, and I say it proudly—we should be Christian nationalists."
Contrary to her interpretation, critics of Christian nationalism condemn the ideology as radical and in opposition to interfaith inclusion, and often associate it with fringe movements like the "alt-right" and white supremacy. In an interview published on Friday, Reverend Paul Raushenbush, a Baptist minister and the incoming president of the Interfaith Alliance, called the ideology "a threat to the American way of life."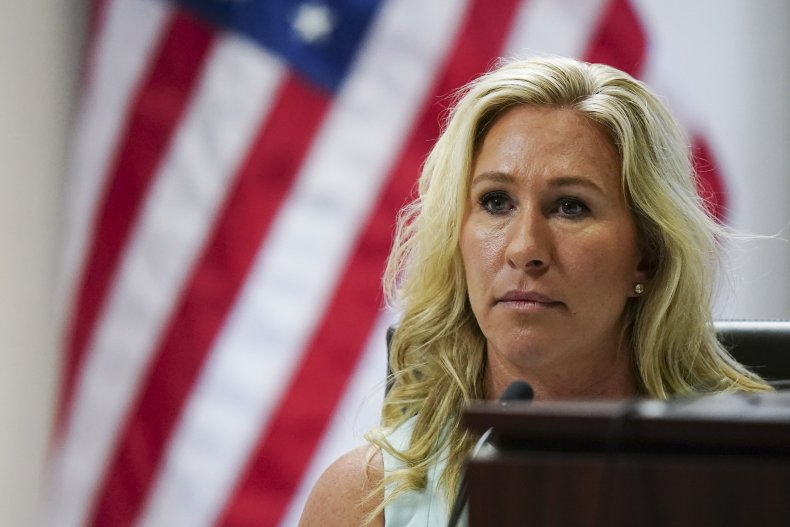 "I strongly believe that you'll find religious diversity in every community," Raushenbush said. "It's important to recognize that's fundamentally a strength for America, not a threat. This circle has to include everyone. White Christians don't get to say, 'This is our country and the rest are lucky to be invited.'"
Newsweek reached out to Greene's office for comment.
During her talk in Tampa on Saturday, Greene also touched on the recent outbreak of monkeypox in a manner meant to mock left-wing activists on social media.
"We have a new global pandemic, have you heard about this? Monkeypox, that's right," she said. "It's the newest thing. Listen, you guys have to update your social media, right next to your Ukraine flag emoji and your vaccine shot emoji, you need to make sure you have a monkey emoji."
Despite Greene dubbing monkeypox a pandemic, the virus has not yet been given that classification officially. On Saturday, the World Health Organization (WHO) moved to classify the virus as a "public health emergency of international concern," the highest alert the organization can issue, short of declaring a pandemic.