Georgia Republican officials continue to clash over the future of the party as Representative Marjorie Taylor Greene pulls the GOP in one direction and others try to win over voters who flipped the state blue during the January Senate runoffs.
Gabriel Sterling, a Republican election official in Georgia, said the freshman congresswoman's dedication to promoting a number of conspiracy theories, including that space lasers caused California wildfires, are holding the GOP back.
"If you have any common sense, you know she's an anchor on the party. She is weighing us down," Sterling told Politico on Monday.
Greene and Sterling have previously butted heads. During the November election, Sterling became a vocal critic of the unsubstantiated claims of election fraud that former President Donald Trump and his allies, like Greene, bolstered. On Twitter, Greene blamed Sterling for the Republican Party's losses in the runoffs and accused him of running an election "that was stolen." She claimed the presidential election in Georgia was stolen because "mailed out millions of absentee ballots to any one and everyone while GA was an open state."
Sterling told Politico that despite calls to censure or remove Greene from Congress, "the Democrats would never throw her out."
"They want her to be the definition of what a Republican is," he said. "They're gonna give her every opportunity to speak and be heard and look crazy—like what came out Wednesday, the Jewish space laser to start fires. I mean, I don't know how far down the rabbit hole you go."
House Democrats will try and force a floor vote this week on a resolution to expel Greene. While it is unlikely that the resolution will receive the required support from two-thirds of the House, it would force every Republican to go on the record about the congresswoman.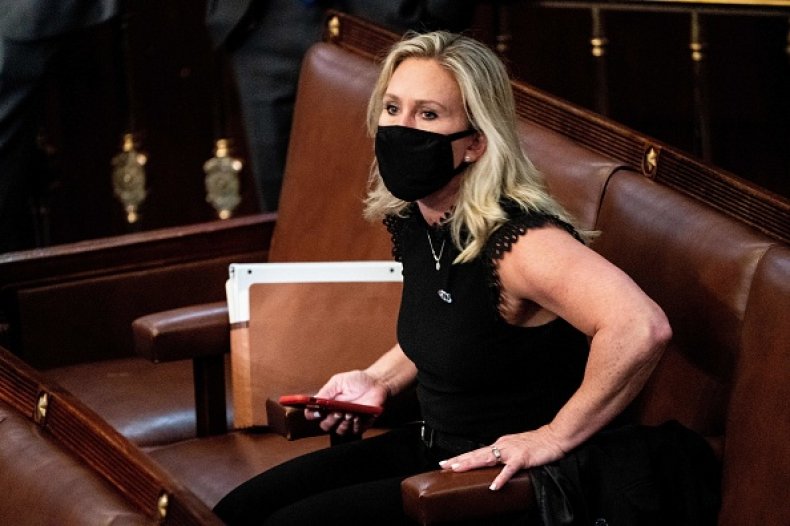 Some of Greene's fellow Republicans have already spoken out against her. Over the weekend, Ohio Senator Rob Portman said the GOP "ought to stand up" to Greene and Utah Senator Mitt Romney tweeted, "Lies of a feather flock together: Marjorie Taylor Greene's nonsense and the 'big lie' of a stolen election."
Republican National Committee Chairwoman Ronna McDaniel addressed the growing civil war among the party on Friday, saying that the ongoing disputes between elected officials will hurt the GOP during the 2022 midterm elections.
"If we are attacking fellow Republicans and cancel culture within our own party, it is not helpful to winning majorities," McDaniel told The New York Times.
"Marjorie Taylor Greene is trying to distance herself from those things and there's going to be an investigation. I trust the voters. I have a lot of faith in the voters to pick who's best to represent them," she said.
House Minority Leader Kevin McCarthy is expected to sit down with Greene this week to discuss the mounting calls for party officials to condemn her and remove her from her congressional committee assignments.
The congresswoman has remained defiant, saying in a Friday statement, "I will never back down. I will never give up."
Greene is set to play an increasingly important role in 2022 when three top Republicans—Governor Brian Kemp, Lieutenant Governor Geoff Duncan and Secretary of State Brad Raffensperger, whom Sterling works for—run for reelection.
The congresswoman is up for reelection herself in her conservative north Georgia district, where support for Greene has supposedly grown since she drew criticisms last week when videos of her harassing Parkland survivor and gun activist David Hogg resurfaced. On Friday, Greene tweeted that she raised $1.6 million from the controversy.