Georgia Republican Representative Marjorie Taylor Greene on Saturday imitated "very dramatic" New York Democratic Representative Alexandria Ocasio-Cortez as she recounted their recent confrontation about the Green New Deal in Congress.
Speaking at the America First Rally in Florida, Greene told a conservative crowd that Ocasio-Cortez has accepted her challenge to debate the Green New Deal in the lower chamber.
"We're going to schedule it very soon and she better show up and I'll spend the entire time telling the American people exactly what her Green New Deal is all about," she said.
Greene also recounted their confrontation in Congress, which she claims led to Ocasio-Cortez agreeing to the upcoming debate. During her retelling of the incident, Greene imitated the Democrat and accused her of being "dramatic."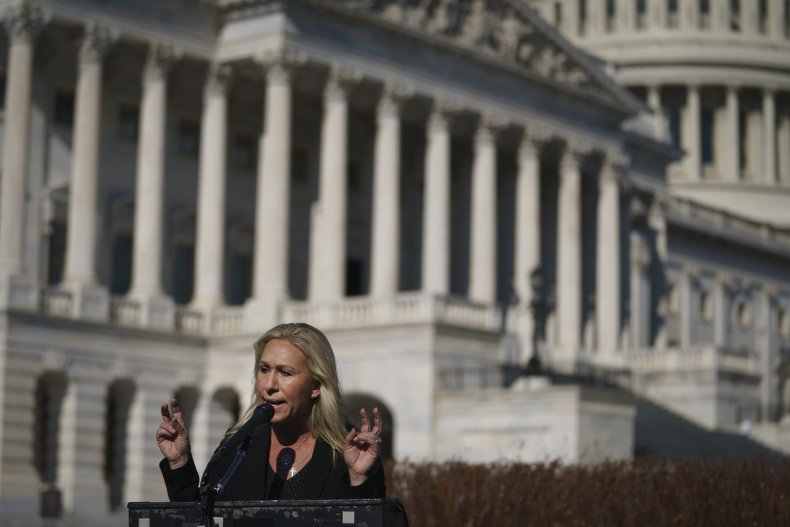 "When I saw her in the Capitol just the other day, she was in the chamber, so I went down and was like, 'Hey, I'm Marjorie Taylor Greene. I'd like to challenge you to a debate on the Green New Deal,'" she said. "Needless to say, she was like, 'Oh, like have you even read it?'"
Greene continued: "I said, 'I've read most of it.' She's like, 'Well how can you even challenge me to a debate if you haven't even read it.' I was like, 'Okay, I'll finish reading it and we'll debate.'"
Ocasio-Cortez "goes, 'Well, you wanna do it like on pay-per-view?' And I said, 'Yeah I want as many people to see it. I want to do it on every news network. I'm down with pay-per-view, I'm down with whatever, because I want the American people to know exactly what your Green New Deal is all about and I'm going to tell them,'" Greene said.
Greene added: Ocasio-Cortez "goes, 'Well this is where we do public debates.' Very dramatic. We're standing in the chamber. I said, 'Okay, then we can do it right here. 'Cause here's the deal I'm a business owner, I sign paychecks, I create jobs, I built the economy and your Green New Deal is going to tear it down. You see, you've never been a business owner and you have no clue what you're doing.'"
The America First Rally drew roughly 300 conservative attendees, some wearing paraphernalia inspired by former President Donald Trump. The crowd responded to Greene's speech with several standing ovations.
On Wednesday, Greene shared a photo of her encounter with Ocasio-Cortez. "I'm glad I ran into you today @AOC to plan our debate about the Green New Deal," she tweeted. "After I finish reading all 14 pages, like we agreed, I'll schedule time for our debate."
Newsweek reached out to Ocasio-Cortez's office for comment.