Marjorie Taylor Greene Introducing Resolution to Expel Rep. Maxine Waters from Congress
Republican Georgia Rep. Marjorie Taylor Greene has announced that she will soon introduce a resolution to expel Democratic California Rep. Maxine Waters from Congress.
On Sunday afternoon, Greene tweeted, "Very soon I'll be introducing a resolution to expel @RepMaxineWaters from Congress for her continual incitement of violence on innocent American people."
"Rep Waters is a danger to our society," she added.
In a statement emailed to Newsweek, Greene's office said she announced plans to expel Waters "after the California Congresswoman invited Black Live [sic] Matter domestic terrorists to fire gun shots at National Guardsmen in Minnesota."
"As a sitting United States Congresswoman, Rep. Maxine Waters threatened a jury demanding a guilty verdict and threatened violence if Chauvin is found not guilty. This is also an abuse of power," Greene added.
Greene's remarks on Sunday came hours after Waters joined hundreds of Black Lives Matter protesters around the 11 p.m. curfew on Saturday night to demonstrate outside the police department in the city of Brooklyn Center, Minnesota.
The crowds were gathered for a seventh night of protests, after the police killing of Daunte Wright, to rally against police brutality and systemic racism. They repeatedly called for heavy charges against Kimberly Potter, the officer involved in the shooting.
Waters spoke to the crowd, telling them that she backed murder charges against Potter and advised the city against settling for manslaughter charges.
Nearby in Minneapolis, Derek Chauvin's murder trial has disrupted the city. Protesters across America have called for a guilty verdict to be passed onto the police officer accused of killing George Floyd.
Asked about the Chauvin trial by reporters, Waters said that she was "hopeful" the cop would be convicted.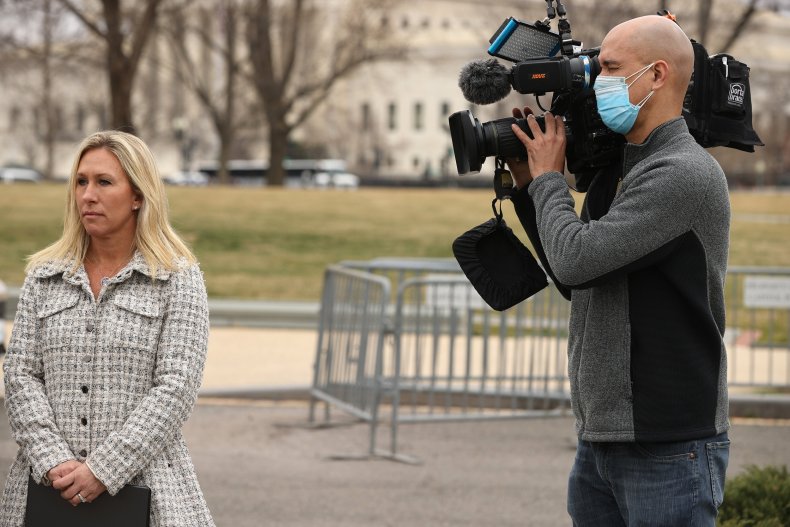 If Chauvin isn't found guilty, "we've got to stay on the street and we've got to get more active, we've got to get more confrontational. We've got to make sure that they know that we mean business," she added.
Republicans immediately condemned Waters' remarks, with some accusing the lawmaker of inciting violence.
Senator Ted Cruz of Texas accused Democrats of "actively encouraging riots & violence."
"They want to tear us apart," he tweeted, alongside a Daily Mail article on Waters at the protest. "'We gotta stay on the street,' Waters was recorded saying, adding that protesters needed 'to get more confrontational' & they should ignore the curfew in place."
In a tweet, Rep. Ken Buck of Colorado asked, "Why is a sitting member of Congress encouraging protesters to get 'confrontational?'"
"Why is Maxine Waters traveling to a different state trying to incite a riot? What good can come from this?" tweeted Rep. Lauren Boebert of Colorado.
Rep. Andy Briggs of Arizona said, "The Radical Left don't care if your towns are burning, if there's violence in your streets, or if the police are too defunded to defend their communities. As long as the Left appeases their anti-America base, their job is done."
04/18/2021 6:58 p.m. ET: This story has been updated to include a statement from Greene.