Georgia congresswoman Marjorie Taylor Greene has been mocked online after she said she filed a police report against a talk show host Jimmy Kimmel for making a joke about her.
In a tweet Wednesday night, Greene said the quip from Kimmel, which referenced Will Smith's attack on Chris Rock at the Oscars, was a "threat of violence" towards her.
Kimmel was discussing the controversy surrounding Greene's previous comments in which she accused GOP senators Mitt Romney, Lisa Murkowski and Susan Collins of being "pro pedophile" because they announced they were going to vote to confirm Judge Ketanji Brown Jackson to the Supreme Court.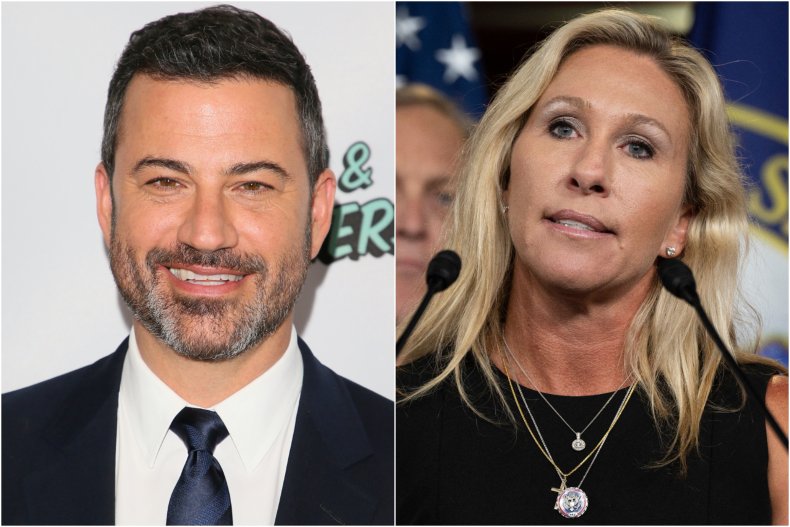 Kimmel also called Greene a "Klan mom" before referring to her "pro pedophile" tweet, which is based on disputed claims that Jackson gives lenient sentences to child sex offenders.
"Wow, where is Will Smith when you really need him?" Kimmel said.
While sharing the clip on Twitter, Greene said: "ABC, this threat of violence against me by Jimmy Kimmel has been filed with the Capitol Police."
A Capitol Police spokesperson told Newsweek: "We cannot confirm or discuss any potential investigations."
In response, a number of social media users have ridiculed the congresswoman for saying she went to the police to file a complaint over Kimmel's remarks.
Kimmel also responded to Greene's post, tweeting in reply: "Officer? I would like to report a joke."
Dean Obeidallah, a former lawyer turned stand-up comedian, tweeted: "This is classic false police report by Greene. She MUST be criminally prosecuted for filing a false police report over an obvious joke. Greene like Trump wants to SILENCE comedians who mock them!"
Danny Zuker, producer on ABC's hit sitcom Modern Family, wrote: "I think Greene might have better luck with the Moscow Police."
"And at the risk of being sued, where is that Jewish Space Laser when you really need it?," he added in reference to Greene's promotion of an anti-Semitic conspiracy theory on how 2018 California wildfires started.
Political commentator and podcast host Brian Tyler Cohen said: "Marjorie Taylor Greene, who voted against awarding Capitol Police with congressional gold medals, is now asking for help from Capitol Police because Jimmy Kimmel made a joke about her. Cannot make this up."
Criminal justice advocate and entrepreneur Glenn E. Martin wrote: The 'Klan Mom' quip didn't seem to bother you much, huh? Thanks for sharing, Greene I might have missed these jokes."
Others also made reference to Greene's reaction to Smith hitting Rock on stage at the Academy Awards ceremony, describing the physical violence as an "alpha male" response.
"It was much better than a Twitter fight with people saying tough things on their keyboard behind their screen. They handled the issue and then they actually carried on," she added.
In a statement to Newsweek, Greene's office said: "Our office takes all threats of violence towards the Congresswoman very seriously. Last night, Jimmy Kimmel called for violence to be committed against Congresswoman Greene. It will not be tolerated."
04/07/2022, 10:27 a.m. ET: This article has been updated with comment from Capitol Police.