Marjorie Taylor Greene Keeps Comparing COVID to Holocaust Amid Backlash, Likens Vaccine Passports to 'Gold Star'
Republican Rep. Marjorie Taylor Greene of Georgia continued to make comparisons between the COVID-19 pandemic and the Holocaust amid growing backlash on Tuesday — this time by drawing parallels between vaccine passports and the "gold stars" Jewish people were forced to wear under Nazi rule.
"Vaccinated employees get a vaccination logo just like the Nazi's forced Jewish people to wear a gold star," Greene tweeted. "Vaccine passports & mask mandates create discrimination against unvaxxed people who trust their immune systems to a virus that is 99% survivable."
A number of grocers and retailers have begun to drop their mask requirements for vaccinated workers and customers following new guidance from the Centers for Disease Control and Prevention that relaxed indoor-masking for vaccinated individuals. To help with the transition, some companies have provided stickers to staff to help identify which individuals are allowed by store policy to go mask-free.
On Tuesday, Greene compared these new protocols to the identifying badges that the Jewish population in Europe were forced to wear by the Nazis in an effort to stigmatize, humiliate, isolate and control them.
Her latest comments are among those in which she likened COVID safety protocols to the persecution of Jewish people during the Holocaust — comparisons which have led to widespread criticisms from both sides of the aisle.
Over the weekend, both Democrats and Republicans alike slammed Greene for comparing the House's mask mandate to the "yellow stars" used to mark Jewish people before they were deported and murdered in gas chambers by the Nazis.
Greene—who has a long history of making racist, antisemitic and Islamophobic remarks—told Real America's Voice's David Brody on his podcast, "You know, we can look back at a time in history where people were told to wear a gold star, and they were definitely treated like second class citizens, so much so that they were put in trains and taken to gas chambers in Nazi Germany. And this is exactly the type of abuse that Nancy Pelosi is talking about."
Fellow Republicans like Reps. Liz Cheney and Adam Kinzinger criticized her remarks, with Cheney calling it "evil lunacy" and Kinzinger describing it as "absolute sickness."
New York Democratic Rep. Jamaal Bowman also blasted Greene, tweeting, "Maybe since Marjorie Taylor Greene has no committee assignments to attend to, she can find the time to visit the Holocaust museum in DC when we're back in session. Then she may realize how antisemitic, ignorant, and careless this comparison is."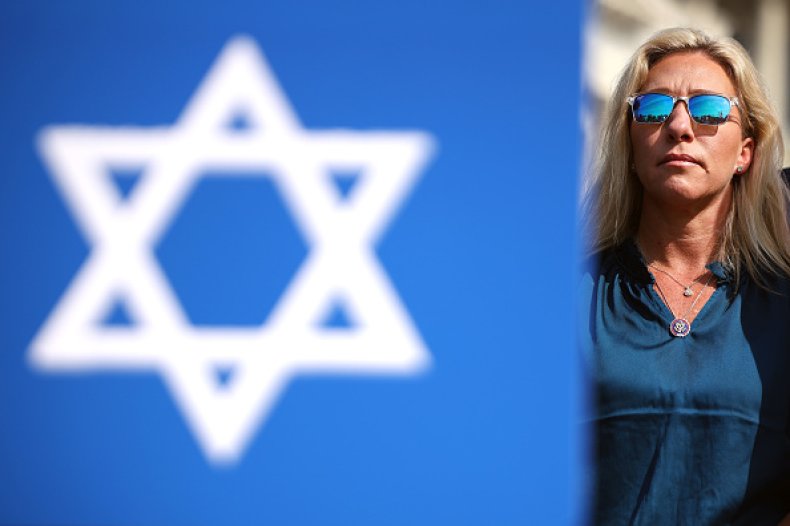 Jewish advocacy groups stressed that Greene's comparisons are especially dangerous amid a new wave of an antisemitic attacks that have broken out across the nation over the the last two weeks. The Anti-Defamation League said it has received a 63% increase in reports of antisemitic attacks since the most recent conflict in Gaza.
On Friday, the American Jewish Congress (AJC) called on Greene to apologize and retract her comments.
"You can never compare health-related restrictions with yellow stars, gas chambers & other Nazi atrocities," the AJC tweeted. "Such comparisons demean the Holocaust & contaminate American political speech. Rep. Marjorie Taylor Greene must immediately retract and apologize."
"This is enough," AJC Executive Director Joel Rubin told CNN's New Day on Monday. "Marjorie Taylor Greene is trafficking in hate speech. She is trivializing the Holocaust. She is conducting dog whistles to the far right to raise money and raise her political power and bias our politics into a place of hate."
The American Jewish Committee also condemned the remarks, tweeting, "Antisemitism is real, dangerous, and on the rise. Equating public health precautions with the persecution of Jews during the Holocaust is disgraceful and unacceptable."
House Speaker Nancy Pelosi has defended her decision to keep a mask mandate on the House floor, citing the relatively large number of Republican lawmakers who have refused to get a COVID-19 vaccine.
A CNN survey conducted last week found that 100 percent of House Democrats have received their vaccinations, but less than 45 percent of House Republicans said they had.