Marjorie Taylor Greene Keeps Getting Mask-Wearing Fines, But Could Avoid Paying Almost All
Although Representative Marjorie Taylor Greene rang in the new year by racking up more fines for refusing to wear a mask on the House floor, she could avoid having to pay any of them if she follows the example of one of her Republican colleagues.
The House Committee on Ethics announced Monday that Greene had been fined yet again for violating the COVID-19 pandemic rule. The Georgia congresswoman had already accumulated more than $80,000 in mask fines by the end of 2021, according to her office. House Democrats introduced the fines, which mandate a $500 fine for the first mask violation and $2,500 fines for each additional violation, shortly after Greene first took office in January 2021.
Greene has reportedly been cited at least 30 times by the office of the House Sergeant at Arms for violating the mask policy, with at least five violations coming during five consecutive days in the fall. Her latest announced fines came from violations that occurred in mid-November. If representatives do not file an appeal, as was the case with Greene, the ethics committee then announces the fines after a waiting period that can be nearly two months.
The fines issued are deducted directly from the paychecks of House members. Greene could have seen her annual salary of $174,000 reduced by nearly half as a result. However, Greene could also avoid paying the fines altogether by following the blueprint of her Georgia colleague, Representative Andrew Clyde, who accumulated at least $30,000 of his own mask fines while reportedly avoiding paying almost all of it.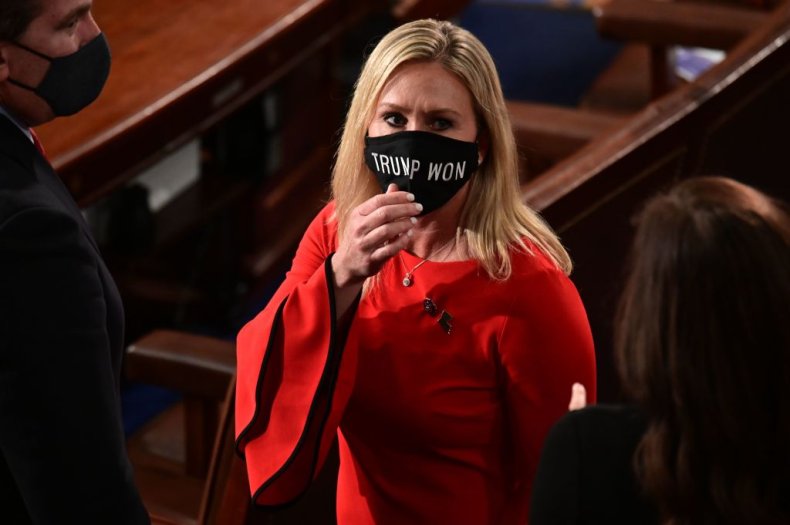 Representative Thomas Massie told CNN last July that Clyde had avoided paying the fines by raising his federal tax withholdings "to $11,284 a month," leaving him with only "$1 of pay" per pay period—the remainder presumably paid back in a tax refund. Massie went on to say that Clyde would "have to be elected until 3,324 A.D." for Speaker of the House Nancy Pelosi to collect his fines.
Newsweek reached out to Clyde and Pelosi's offices for comment.
A court filing from a lawsuit that Clyde and Representative Louie Gohmert filed against House Sergeant at Arms William Walker and House Chief Administrative Officer Catherine Szpindor last year appears to confirm that Clyde is avoiding paying the fines.
A footnote in the suit, which was filed over fines accumulated for violating the House metal detector security screening rules, noted that both Clyde and Representative Lloyd Smucker "deduct nearly all of their paychecks" and were able to avoid paying any more than $1 in fines.
"Representative Gohmert relies on his Congressional salary as his primary means of support, while Representatives Clyde and Smucker deduct nearly all of their paychecks to pay their federal withholding taxes, as they have the benefit of prior saved income from which they can sustain themselves until they file their tax returns each year," the filing, which was obtained by Newsweek, states.
"Representatives Clyde and Smucker are having approximately one dollar ($1.00) deducted from each of their remaining monthly paychecks to pay their fines of $15,000 and $5,000 respectively, because such deductions for the fines herein occur following deductions for taxes, and they have arranged to deduct nearly all of their salary to pay taxes," it continues.
It is not clear if Greene or any other members of Congress are avoiding fines by using the same tactic. The office of Szpindor, who is responsible for payroll for House members, declined to comment when reached by Newsweek. The House Committee on Ethics also declined to comment.
Greene's Communications Director Nick Dyer told Newsweek that "Congresswoman Greene does not discuss her personal finances with the media." While her personal finances are unclear, Greene raised nearly $6.3 million in campaign funds during her first year in office, according to OpenSecrets.