Marjorie Taylor Greene Lashes Out at Democrats as GOP Weighs Removing Her From Committee Seats
Representative Marjorie Taylor Greene lashed out at congressional Democrats in a string of tweets Wednesday, as the GOP is under pressure to take action against the congresswoman while Democrats threaten to force a floor vote to remove her from her committee seats.
Sharing a screenshot of the daily Politico newsletter, Greene highlighted a line that said Democrats would not accept reappointing the Georgia Republican to a different committee as a solution to their concerns about her.
"No matter what @GOPLeader does it would never be enough for the hate America Democrats," Greene tweeted, referring to House Minority Leader Kevin McCarthy. "As much as he genuinely tries to work with @SpeakerPelosi for the good of this country, she refuses to see the hypocrisy of her own conference."
She continued, "Filled with members who supported, cheered on, & funded criminal thugs who riot, burn, loot, attack police, murder, & occupy federal property. Members who sleep with our greatest enemy, marry their brother to get him in our country, lead a violent mob in neighborhoods, and more."
Greene accused Democrats of being "set out to destroy Republicans, your jobs, our economy, your children's education and lives, steal our freedoms, and erase God's creation" and referred to the media as "bloodthirsty henchmen" for the Democratic Party.
"We know who they all are. We owe them no apologies. We will never back down. We only serve the ONE who created us ALL, and we only bow to HIM. And we know who we are, free and saved by HIS grace. No matter what," she concluded.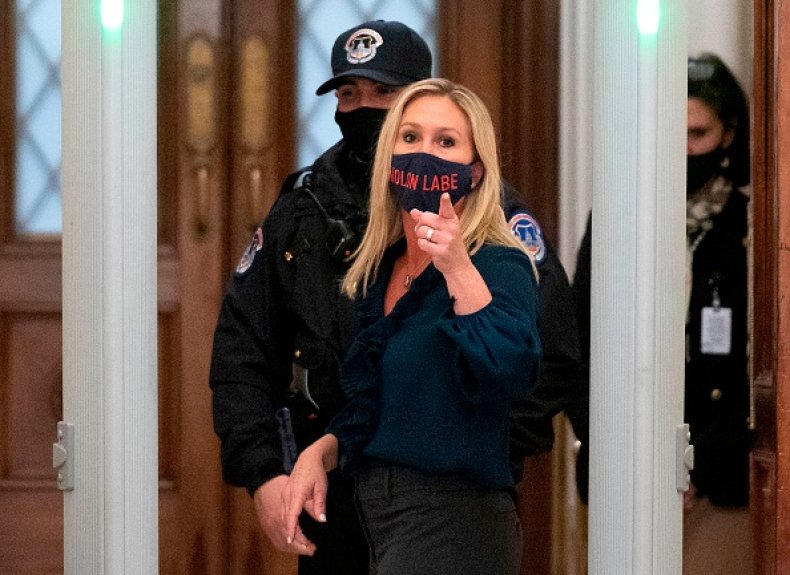 The remarks signal Greene's unwillingness to give up her committee assignments despite growing calls for her to step down or for McCarthy to reprimand her in the wake of recent social media controversies.
Last week, a number of social media posts from Greene resurfaced. They show the congresswoman promoting a number of conspiracy theories, including a video in which she is seen harassing school shooting survivor and gun activist David Hogg and calling him a coward.
Hogg survived the 2018 school shooting at Marjory Stoneman Douglas High School in Parkland, Florida, which left 17 people dead. It was the deadliest high school shooting in United States history, surpassing the Columbine High School massacre. Greene has called the shooting a hoax and referred to the Parkland and the Sandy Hook Elementary School shootings as "false flags."
Hogg replied to Greene's string of tweets with a video in which he calls her "a joke" before Greene walks away. As she leaves with her staff, she tells Hogg to "try appreciating America," to which he replies that he does and that he looks forward to seeing Georgia Senators Jon Ossoff and Raphael Warnock in Congress.
Ossoff and Warnock, both Democrats, won in Greene's home state during the January runoff elections.
Hogg asked, "Why do you just walk away? Are you a coward, like you called me for being when I walked away, as you threaten to kill me and my staff?"
Speaker Nancy Pelosi has slammed House GOP leaders for elevating Greene with committee assignments and said the congresswoman should not be seated on the House Education and Labor Committee. Greene has also been assigned to the House Budget Committee.
"It's absolutely appalling, and I think the focus has to be on the Republican leadership in the House of Representatives for the disregard they have for the deaths of those children," Pelosi said last week, referring to the children at the Sandy Hook school in Connecticut.
McCarthy had a meeting with Greene on Tuesday night, but it is unclear if the GOP will remove her from her committee seats at this time.
Newsweek reached out to Pelosi for comment but did not hear back before publication.