Marjorie Taylor Greene, Lauren Boebert Launch Broadside at Biden Over Border
Rep. Lauren Boebert is leading a group of Republican lawmakers seeking to censure President Joe Biden over his administration's handling of the migrant surge at the U.S.-Mexico border.
On Wednesday, the Colorado congresswoman gave a joint press conference with Rep. Marjorie Taylor Greene of Georgia, where they both criticized the Biden administration.
Over the past few months, hundreds of thousands of migrants have tried to cross into the United States, prompting comparisons with the "no tolerance" policy of Biden's predecessor, Donald Trump.
Boebert, whose censure resolution is backed by 23 other GOP lawmakers, told reporters that she blamed the Biden administration for rolling back measures put in place by Trump.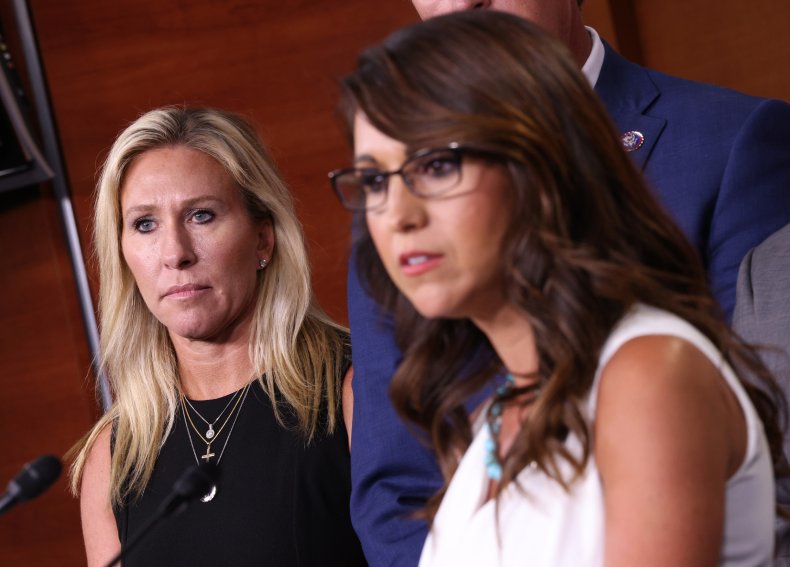 In a separate statement, she said Biden had worsened the crisis "by implementing policies that incentivize illegal immigration like amnesty, catch and release, and abolishing the remain in Mexico policy."
She also criticized Vice President Kamala Harris, who has been tasked by Biden with addressing the root causes of migration from Central America, for not visiting the U.S. border.
In a tweet posted on Wednesday, Boebert wrote: "Biden's failure to live up to his oath must be punished."
Harris traveled to Guatemala and Mexico earlier in June, but did not stop at the frontier. However, on Friday, the vice president will visit the border city of El Paso, Texas, along with Homeland Security Secretary Alejandro Mayorkas.
The signatories to the bill calling for Biden's censure includes Reps. Andy Biggs (R-AZ), Barry Moore (R-AL) and Bob Good (R-VA), as well as Greene.
At the press briefing, the Georgia congresswoman accused the president of failing to secure the border.
She claimed that when she goes to vote on the House floor, she faces more security measures "than illegal aliens have to go through to invade our country."
"You don't have to read, you don't have to know anything to see the truth happening every single day at the southern border," she said.
She added that Biden should have "left the border alone" when he took office and kept the policies of Trump. Later on Wednesday, she tweeted: "I believe his administration has intentionally allowed for this chaos to occur."
Greene has been criticized for her stance on gun rights and her alignment with various conspiracy theories. Earlier this month, she issued an apology after being condemned from both sides of the aisle for comparing COVID safety measures in Congress with the Holocaust.
Newsweek has contacted the White House for comment.