Lawyer Ron Fein has argued that Georgia Representative Marjorie Taylor Greene had "crossed the line" and said he was looking forward to questioning her on her January 6 involvement.
Greene will have to answer questions, under oath, at a hearing on Friday regarding her alleged involvement in the storming of the Capitol on January 6, 2021.
A group of Georgia voters are seeking to have Greene disqualified based on a provision in the 14th Amendment of the U.S. Constitution, originally designed to prevent former Confederates from holding office after the Civil War.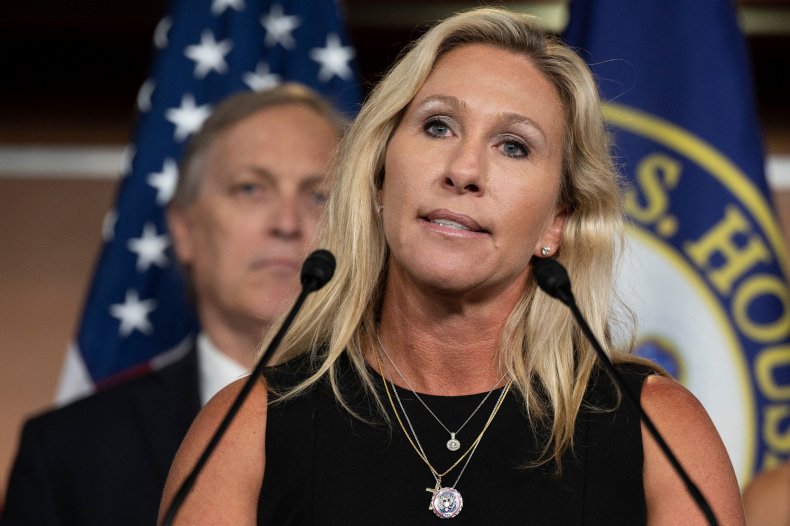 "If we prevail with this hearing on Friday then the judge will write a written recommendation, which of course could be appealed, that would say Marjorie Taylor Greene is disqualified from public office," said Fein, legal director of Free Speech For People, a non-partisan, non-profit legal advocacy organization that is representing the Georgia voters.
"The secretary of state would put instructions at all the polling places in her district in Georgia saying that votes that are cast for her will not count and will be discarded," he said.
Fein also commented on the rarity of the lawsuit and defended its application in this situation.
"This is a rare action and, in fact, it hasn't happened for over 150 years because insurrections against the United States, let alone insurrections in which members of Congress were involved is a very rare phenomenon," he said.
"But Marjorie Taylor Greene crossed the line and she met the legal standard for engaging in insurrection, which, under our Constitution, means that she is disqualified from future public office."
The Georgia representative has criticized the claims being put against her and said she intends to defend herself on Friday.
Greene also expressed concern that the hearing will allow recordings, during an appearance on the Jenna Ellis Show podcast. A snippet of Greene on the show has begun to circulate on social media.
"I did nothing wrong. It is absurd what they are claiming and lying about. They are going to allow the press in the courtroom, they are going to allow the whole thing to be videoed live out to go anywhere in the world," Greene said.
"You know what that is going to look like, the Democrats and the nasty mainstream media, the ones that lie about me constantly anyway. They are going to be able to twist and turn and clip out any little piece that they want of the horrible things that these funded attorneys are going to try to say about me."
The previous day, while speaking to Fox News' Tucker Carlson, Greene said that the people bringing the lawsuit against her "hate the people" in her district and said removing her from the ballot was undemocratic.
"It is not [democracy], Tucker, that is the thing. These people hate the people in my district so much," Greene said while speaking on the topic.
"They look down on them because they voted for me and sent me to Washington to fight for the things that most Americans care about, like secure borders, stopping abortion, protecting our Second Amendment, stopping the out-of-control spending in Washington, stop funding never-ending foreign wars."
Greene also said that the attorney's involved in the case "hate the people" in her district due to her standing up for the issues Georgians care about.
She said: "Attorneys from New York who hate the people in my district and don't believe they should have the right to elect who they want to send to Washington, which is me.
"Now they have filed a lawsuit because they are trying to rip my name off the ballot and steal my district's ability to re-elect me and send me back to Congress."
Newsweek has contacted Marjorie Taylor Greene for comment.