Marjorie Taylor Greene 'Looking Forward' to Debate With AOC After Reading 'Communists Manifesto'
Representative Marjorie Taylor Greene is ready to schedule a debate with Representative Alexandria Ocasio-Cortez over the Green New Deal, which the Georgia Republican likened to a "Communists manifesto."
Greene, a freshman member of Congress, and Ocasio-Cortez, a New York Democrat who's in her second term, both quickly made names for themselves, albeit on opposite sides of the political spectrum. On Wednesday, the two talked on the House floor and agreed to debate the Green New Deal, an environmental plan Ocasio-Cortez is trying to make a staple of her legacy.
The Republican congresswoman stipulated that the debate wouldn't be planned until after she read the plan in its entirety. About 14 hours later, she posted on Twitter that she read all 14 pages of Ocasio-Cortez's "communists manifesto" and she's "looking forward to debating" the Democrat.
Nick Dyer, Greene's communications director, told Newsweek thatthe Republican is ready to start planning the debate "right away."
Newsweek reached out to Ocasio-Cortez's offices for comment, but did not receive a response in time for publication.
On Tuesday, Ocasio-Cortez reintroduced the Green New Deal alongside Massachusetts Democratic Senator Ed Markey. Ocasio-Cortez thanked Markey, who's been in office since 2013, for taking a chance and being an original co-sponsor when she first introduced the "enormous" legislation as a freshman congresswoman.
"For so long our movement toward a sustainable future has been divided with really this false notion that we have to choose between our planet and our economy," Ocasio-Cortez said. "Do we intend on sending a message to the Biden administration that we need to go bigger and bolder? The answer is absolutely yes."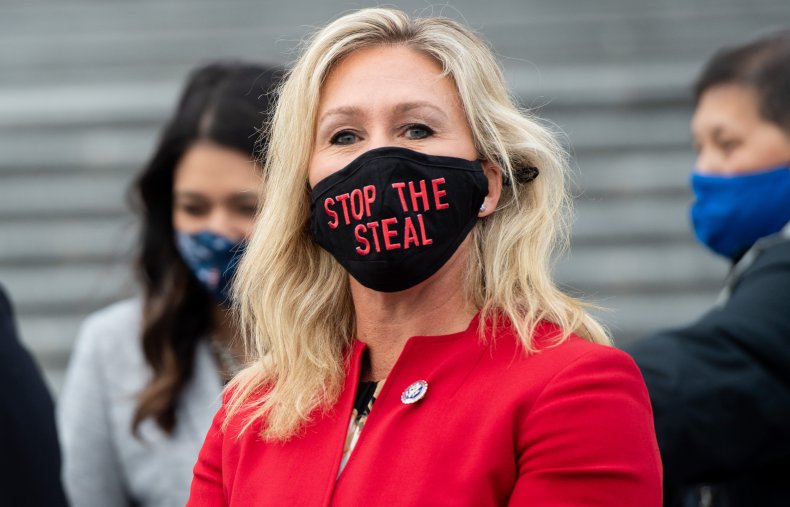 Markey called the Green New Deal a "revolution" and the "DNA of climate action." He credited it with being a necessary framework to confront climate change, a public health pandemic, racial injustice and economic inequality.
According to Ocasio-Cortez, the plan will create 20 million union jobs, reduce greenhouse gas emissions by up to 60 percent within 10 years, and reach net-zero global emissions by 2050. Supporters have compared it to former President Franklin D. Roosevelt's New Deal, but detractors have criticized it for being too costly and an overreach on the part of the government.
As progressives push Congress to pass the Green New Deal, Republicans introduced a plan of their own.
House Minority Leader Kevin McCarthy introduced the Energy Innovation Agenda, a package with more than 40 pieces of legislation. McCarthy, a Republican, credited their plan for "promoting innovation," investing in clean energy and highlighting solutions for conservation.
"Democrats often dismiss Republicans as being disinterested in addressing global climate change. This is just false," McCarthy said.
Republicans in the House don't have the votes they need to pass climate-based legislation without Democrats, and Democrats don't have enough votes to pass the Green New Deal in the Senate without GOP support. It's unclear if either of the measures will make any real progress in Congress.