Marjorie Taylor Greene Mocked Over 'Average White Male' Claims
Georgia Republican Marjorie Taylor Greene was mocked online after she complained about the lack of lobbyists in the U.S. fighting for "the average white male."
In a video shared by Twitter account PatriotTakes, which monitors right-wing extremism online, Greene complained that lobbyists in the U.S. are just fighting "for big corporations and industries" and no one is taking care of "regular Mr and Mrs American, like mom and pops shops, the single moms trying to make it, the guy."
The MAGA Republican lamented that "there's not people fighting for regular Americans," such as "the average white male trying to climb the corporate ladder when his problem is being white and male."
Newsweek has contacted Greene for comment.
Her remarks pointing at "the average white male" as victims were mocked by Twitter users, who suggested that the category is doing just fine.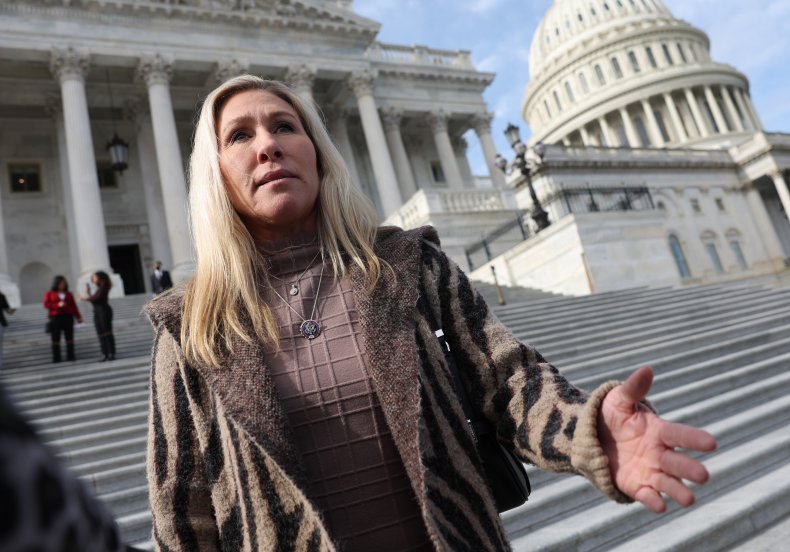 "I spent nearly 30 years working for a Fortune 500 company. I guarantee those white guys are doing just fine!!!," wrote a Twitter user in response to the video shared by PatriotTakes.
"Historically that [being white and male] hasn't been much of an impediment," wrote another.
"88.8% of CEOs, CFOs, and COOs in 2022 were white, and 88.1% were men. Thanks for fighting for the underdog, Marge," wrote Mitchell Robinson, member of the State Board of Education in Michigan.
"Marjorie should be assured that we will all keep it a secret that white males are still big time in Corporate USA," commented former Australian politician Laurie Ferguson.
It was hardly the first time Greene had taken a stance in defense of white men in America. Speaking last year to 18-year-old college student Daniel Schmidt on his podcast, "Piece of Schmidt," the controversial Georgia congresswoman talked of the demise of white men, who she claimed are turning to extremisms after being demonized by society.
"White men are bad, they have to be pushed to the back, they shouldn't be listened to," she said. "But what's that done to your generation and even some of those a little older than you and those definitely younger than you is it has created hopelessness in many of these guys, which turns them to all kinds of bad things, porn on the internet, reading crazy stuff in chat rooms and god knows who's in there and saying what they're saying."
Greene herself has supported several conspiracy theories, including Donald Trump's claims that the 2020 presidential election was stolen or rigged and several QAnon beliefs.
Last month, Greene justified her past support for QAnon conspiracy theories, saying to Fox News that "like a lot of people today, I had easily gotten sucked into some things I had seen on the internet."
In the interview with Schmidt, Greene also claimed that white men were being "passed over" in the hiring process and job promotions.
A recent study from the University of Massachusetts-Amherst Center for Employment Equity found that, despite employers trying to diversify their pool of applicants, "white men have advantaged access to high paying white and blue collar jobs in most states."
"There is not a single state where Black men are overrepresented in professional jobs," the study's authors wrote. "Black men and women tend to have the least access to professional occupations in the southern states. Hispanic men and women are underrepresented in professional jobs in all states."