Marjorie Taylor Greene Mocked for Tweet Saying Her Enemies Are 'Quacking'
Georgia Republican Representative Marjorie Taylor Greene is receiving some flack for a tweet about "enemies" that included a notable spelling error.
"I'm sure our enemies are quacking in their boots while we are still over here trying to count ballots," Greene tweeted.
Many Twitter users took note of the word "quacking."
Journalist David Leavitt mocked Greene with multiple duck emojis.
Twitter user RollWithIt used wooden ducks in boots to respond to Greene.
And user Andrew Roslak got Donald Duck and some "friends" in on the fun, while urging Greene to "stop using the tweet machine."
Greene did later post a separate tweet correcting "quacking" to "quaking," but did not delete the original tweet.
When asked what she meant by "enemies," Greene spokesman Nick Dyer referred Newsweek to a September 16 tweet from Greene.
"Joe Biden is draining our Strategic Petroleum Reserve and selling it to our enemies," the tweet said. "On Monday, I'm introducing articles of impeachment to hold him accountable."
The tweet is accompanied by a video of an interview between Greene and Fox News' Tucker Carlson.
In the video, Greene claimed that Biden "is selling [oil] to our enemies and foreign countries all over the world." Carlson called it "crazy" that Biden is selling oil to China.
"Well, those are his business partners," Greene responded.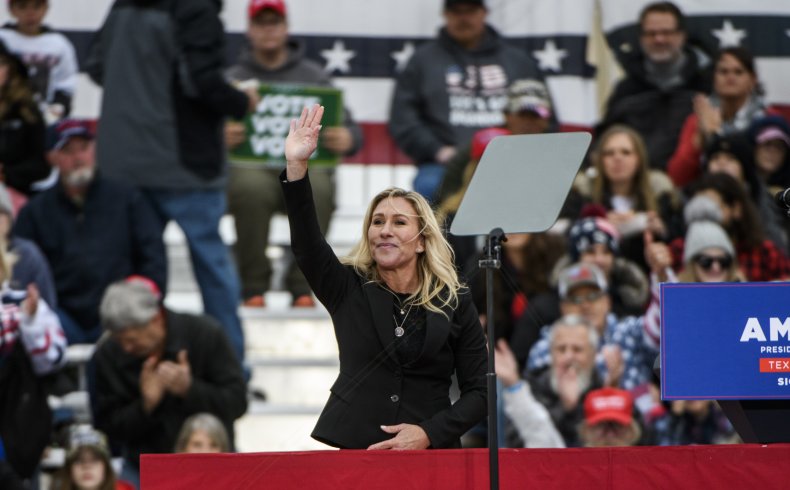 On January 21, 2021, Greene introduced a House resolution to impeach Biden "for abuse of power by enabling bribery and other high crimes and misdemeanors" during his tenure as Barack Obama's vice president.
Greene's mention of ballots in her recent tweet is a reference to election counts still taking place in states including Nevada, Colorado and Arizona.
In Arizona, votes in the gubernatorial and Senate races continue to be tabulated following technical malfunctions in Maricopa County. From the time the glitches began, Republican gubernatorial candidate Kari Lake and her campaign have made unfounded claims about the merits of the election.
In Colorado's 3rd Congressional District, as of November 10, Republican Representative Lauren Boebert is currently trailing Democratic opponent Adam Frisch by less than 100 votes with 98 percent of precincts reporting, according to the Associated Press.
The race remains up in the air, a surprise maybe most to Boebert herself after she proclaimed in the early hours of election night that a "red wave has begun."
While the GOP is predicted to take over the majority in the House of Representatives, multiple races remain close and have not yet been called. If the GOP does take over, Greene is expected to have a pivotal role within the party and its future platform.
While at a Monday night campaign rally headlined by former President Donald Trump in Vandalia, Ohio, she told the crowd that impeachments of Biden and other administration officials will be part of the Republican agenda.
"We can impeach [Homeland Security] Secretary [Alejandro] Mayorkas, we can impeach [Attorney General] Merrick Garland and we can and we will impeach Joe Biden," Greene told a crowd, which responded in cheers.
In a separate tweet, she said it would be "easy" to impeach Biden, saying all Republicans have to do is show "proof."