Marjorie Taylor Greene Predicts Straight People Will Soon Be Extinct
Georgia Representative Marjorie Taylor Greene's latest comments on sexuality have gone viral on social media.
Greene, who last week won her Republican primary, was speaking during her latest broadcast of MTG:Live, her streaming broadcast that airs on her social media pages.
In a clip from the broadcast, Greene claimed that heterosexual people would soon be extinct.
The clip has started to go viral on Twitter and so far has been viewed over over 110,000 times.
"They just want you to think that all of a sudden the entire population is steadily turning gay or turning trans," she said.
"Just generation, generation. Probably in about four or five generations, no one will be straight anymore.
"Everyone will be either gay or trans or non-conforming or whatever the list of 50 or 60 different options there are."
Greene has been critical of trans people and non-binary people in the past, in one instance seemingly suggesting a threat of violence is "exactly how we need to stand up" against them in society.
Speaking on conspiracy theorist Alex Jones' InfoWars show on February 20, Greene was critical of reports that biologically male counselors who used they/them pronouns at a science camp in California shared a cabin with fifth-grade girls. She also slammed transgender women competing in sporting events.
Greene described the reports that non-binary counselors at the Camp Pali in San Bernardino slept in the same cabin as the schoolgirls as "evil" before suggesting her husband would have attacked the counselors if her children were at the camp.
"First off, if I was a parent and my fifth-grade daughter had to sleep and showered in some kind of cabin at some summer camp that I paid money to send my child to, and there was a man calling himself a woman sleeping in her cabin, showering with her, that guy would, he'd be in jail. He would be in jail," Greene said.
"Well, first off, my husband would've beat him into the ground, and then he'd be in jail. But this is exactly how we need to stand up against this stuff."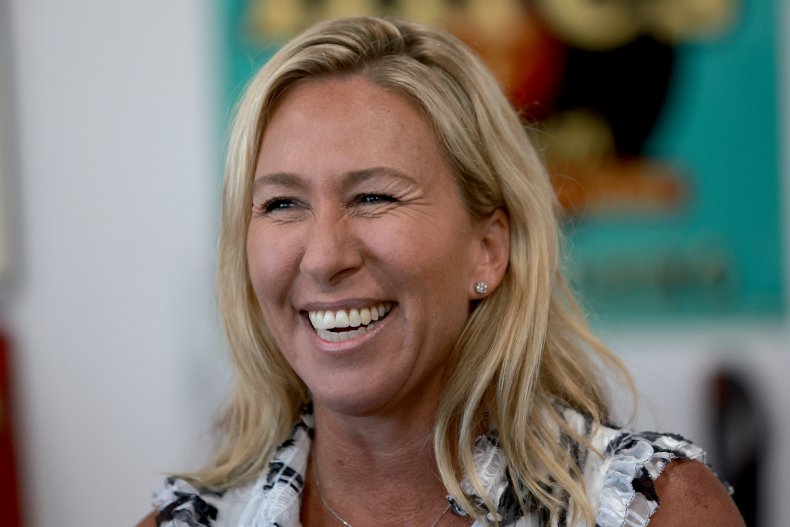 There was no suggestion that the counselors showered with the fifth graders at the cabin, reported KTLA.
Newsweek has contacted Marjorie Taylor Greene for comment.
Another clip from a Greene broadcast went viral on Monday after she mispronunced petri dish as "peach tree dish." The clip became popular on Twitter and has been viewed over 4.8 million times.
"You have to accept the fact that the government totally wants to provide surveillance on every part of your life," Greene said.
"They want to know when you are eating, they want to know if you are eating a cheeseburger which is very bad because Bill Gates wants you to eat his fake meat that grows in a peach tree dish."
This resulted in social media users ridiculing the congresswoman and questioning whether she was fit to represent the state of Georgia.